A Frenchman allegedly trying to discard a gun prompted the evacuation of one of two terminals Saturday morning at London's Gatwick Airport, police said.
The incident came a few hours after the deadly terrorist attacks in Paris, and the timing, police said, increased the level of concern.
Police said they were called to the airport around 9:30 a.m. Saturday after a man was seen discarding a "suspicious article."
Tim Unwin, who was scheduled to catch a flight, said several "armed police" entered Gatwick's North Terminal and evacuated people. Hundreds were moved about 100 yards away from the building, Unwin said.
Police said they carried out a small controlled explosion.
"Personal items and what appears to be a firearm were recovered and have been removed for forensic examination," a statement from Sussex police said. "However, the viability of the weapon has yet to be established."
The statement said a 41-year-old man from Vendôme, France, was arrested at the scene on suspicion of firearms offenses. He had not checked in or passed through passport or security checks, the statement said.
Vendôme is about 175 kilometers (108 miles) southwest of Paris.
Passengers and staff were later allowed to return to the terminal.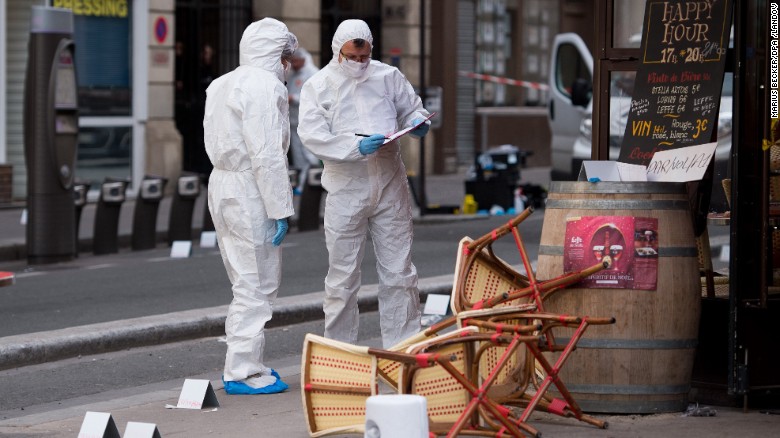 "The man is being interviewed as we try to determine the circumstances of the incident, but at this time it is too early to say what his intentions, if any, were," said Detective Superintendent Nick May.
"However, given the events in Paris on Friday evening, there is heightened awareness around any such incident and it is best that we treat the matter in all seriousness.
"We are aware that there is concern about what has happened in France, but the general threat level remains the same and people should be aware as usual of anyone acting suspiciously and report any concerns immediately," he said.
At least 128 people were killed late Friday in coordinated attacks in and around Paris.
Gatwick, the second-busiest of London's international airports, is about 50 kilometers (30 miles) south of the British capital.
As reported by CNN