South American composer and singer Caetano Veloso, who performed in Tel Aviv in July with fellow musician Gilberto Gil, publishes a three-page article on the 'occupation, segregation and violence' he witnessed in the West Bank during his visit.
"I visited Israel to never go back there," Brazilian composer and singer Caetano Veloso, who performed in the Jewish state in July alongside fellow musician Gilberto Gil, writes in an article published in the Folha de Sao Paolo daily.
In the three-page article, the 73-year-old esteemed musician talks about emotional moments he experienced during his recent visit to the Middle East.
"Getting to know the city of Tel Aviv, which is located by the Mediterranean Sea, as well as the modern architecture and the sensual style of the people living in it, raises the question of whether the alleged peace that exists in this city is one that is not really interested in peace," he wrote.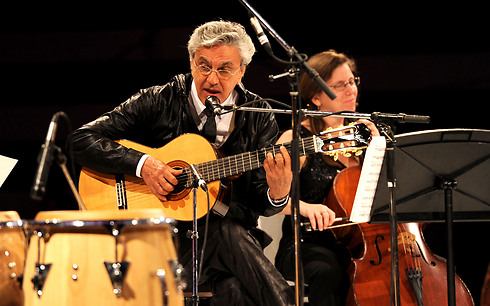 Veloso appears to have completely changed his mind, as during his visit to Israel he met with former President Shimon Peres and stated that "the whole thing of coming here has been discussed beforehand because the BDS movement has been pressuring us not to come. We didn't accept to cancel the show."
He added that he and Gil loved Israel and were happy to perform in "a place of hope for peace." He has also said they understood the complicated situation in the area, but that upon seeing the opportunities and Tel Aviv's beauty, one sees how good it could be there.
In order to better understand the current situation in the relations between Jews and Palestinians, Veloso also visited the village of Susya in the territories, accompanied by a Palestinian and a former IDF fighter who are familiar "with the segregation, oppression and violence the Palestinians are suffering from." He spoke of his experience in the press conference he convened after that visit to the Peres Peace Center.
"The actual mention of Susya (which has made headlines around the world due to the Israeli army's aggressive attacks) led to an awkward silence in the room," he wrote, stressing the deep sorrow he had felt after the press conference.
In another meeting with a critical audience, he couldn't hold back the tears when he received a round of applause after saying: "Stop occupation, stop segregation, stop oppression."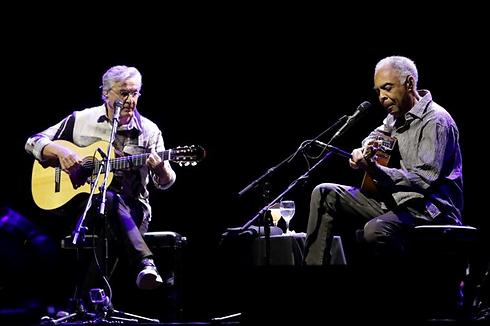 Before his concert in Israel, Veloso asked to dedicate the evening to Palestinian filmmaker Hany Abu-Assad and praised the Breaking the Silence movement for "making huge efforts as we speak in the face of politics' complete silence." In his article he also compared the Palestinian territories to the favela slums in urban areas in Brazil.
Upon Veloso and Gil's return to Brazil, they received an email from the BDS movement calling for a boycott of Israel due to its policy in the West Bank and Gaza. "One of the emails included a video of the Palestinian I spoke to in Susya being brutally beaten by young Israelis from a nearby settlement," Veloso wrote. "Those were cruel images, showing Israeli soldiers watching the incident indifferently."
As reported by Ynetnews