Kosha Dillz, an Israeli-American rapper who has become a household name in the US, is appearing at the Tune in Tel Aviv festival.
Rapper Kosha Dillz didn't think imagine Islamic State would boost his popularity and build up his publicity in the US. Hackers associated with ISIS attacked his website and planted radical Islamist messages, and the rest is history.
Kosha Dillz (kosher pickles) is Rami Matan Even-Esh, 34, born in New Jersey to Israeli parents who emigrated to the United States from Kiryat Tiv'on. At the age of 17, after several years of running afoul of US law and even a stay in prison, Rami discovered the world of hip-hop and in recent years has become a household name in California (he lives in Los Angeles) and the rest of the United States.
Kosha, who graduated from Rutgers University in New Jersey and who would spend his vacations at the family home in Kiryat Tiv'on, developed a hip-hop style that combines Jewish and Israeli themes. He rhymes in Hebrew, English and Spanish.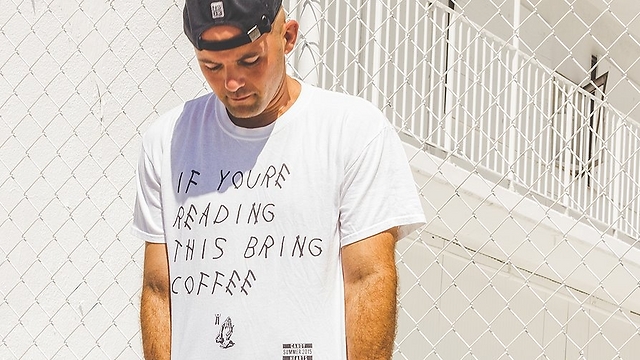 Tomorrow Kosha Dillz will make his first appearance in Israel, at the Tune in Tel Aviv music festival which opens Thursday and runs until Saturday night. The festival will feature dozens of artists from Israel and the rest of the world, including Balkan Beat Box, Dudu Tassa, TYP and Red Band.
In recent years, Kosha Dillz has been appearing on both small and large stages at Amercian festivals and stadiums and has appeared with giants such as Snoop Dogg. His funny videos have become big hits on YouTube. He also regularly cooperates with Israeli and Jewish musicians, including Dag Nachash, his good friend Matisyahu and Shai 360, stars of the Israeli hip-hop scene.
How is it performing in Israel during these rather tense days?
"This is exactly the time one needs to be here. Especially at a concert produced under the title "hip-hop in Israel", a collaboration between artists from different backgrounds. It is important for me to be noticed in Israel."
Are you encountering problems because of your origin when you appear abroad.
"Unfortunately, yes. I have not been physically attacked, but the hate on social media is palpable. People yell remarks at me, but as an artist, my job is to show up. I'm also limited in the kind of political statements I can make.
"If I come across someone who hates me, I will try to silence him. Sometimes I will tell a joke about him and continue doing what I love to do, rapping. I really do not understand what the problem is with loving the place where your family comes from, where your grandparents built their home – the homeland."
A few months ago Kosha Dillz wrote a biting article in the music magazine Billboard against anti-Semitism in the music industry and his experiences with anti-Zionism and anti-Semitism.
"I often talk about Israel as my whole family and many of my friends are from there. Apart from the US, Israel is the best place for us – the country that saved my family, the language and our people. Most of those who condemn Israel have never visited it or are exposed to disinformation. It does not matter if my music is associated with it or not, it is important to try to educate people so that they do not defame for no reason."
"The Tune in Tel Aviv festival is a platform designed to bring together artists, bands and mportant decision-makers of the international music industry," said Ami Nir, one of the festival's producers.
The event will consist of over 80 performances throughout Tel Aviv that will present the skills and creativity of domestic artists. There will also be a special conference at the Tachana in Tel Aviv where guests will discuss critical issues regarding exporting musicians, in order to educate people about the music industry.
As reported by Ynetnews