Dr. Ran Baratz apologizes following revelation of social media posts expressing open disdain for US officials and President Rivlin, which were criticized by ministers.
US President Barack Obama is an anti-Semite and US Secretary of State John Kerry is a stand-up comedian hardly worthy of a stage, according to social media posts from Prime Minister Benjamin Netanyahu's head of public diplomacy, Dr. Ran Baratz, who was appointed on Wednesday.
Netanyahu issued a statement on Thursday disassociating himself from Baratz's statements following criticism by politicians and reports in the international media. Dr. Baratz also issued a statement in which he apologized for the "hurtful" comments.
Possibly the most problematic comments for Baratz's new position came following the prime minister's speech before Congress in March.
A State Department spokesman said on Thursday that the US found the comments both "troubling and offensive." The spokesman continued to say that Kerry spoke to Netanyahu on Thursday and understood from him that the appointment would be "reviewed."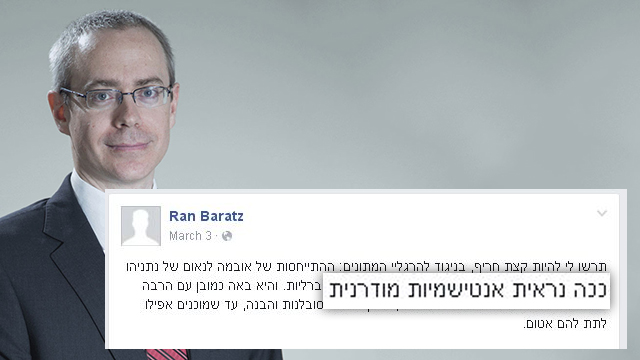 "Obama's attitude to Netanyahu's speech is what modern anti-Semitism looks like in Western liberal countries," wrote Baratz. "And it of course comes with a lot of tolerance and understanding of Islamic anti-Semitism. So much tolerance and understanding, to the point of being willing to give them the atomic bomb."
Last June, following the heckling of US Secretary of the Treasury Jack Lew at an Israeli conference in New York, Baratz wrote in a Facebook post that he decried the heckling while Lew was talking about the good things that Obama does for Israel, but went on to offer an explaination.
"While Obama is helping us with tactical issues like the threats of Hamas and Hezbollah, he is establishing a new global stategy of compromise with Iran, and is creating for us (and other countries in the region), a big nuclear strategic issue," he said.
"In this sense, Obama certainly threw us under the bus, even if he did it with a winning smile, all the while giving us an abundance of bandaids and casts to the sound of the hallelujahs from the chorus of leftist Israeli and American Jews," he continued. "So yes, I boo him."
Even earlier, in an article posted online after Obama's election to a second term in 2012, Baratz expressed disdain for the president, saying that, "In the US, there will now be a pro-Arab and anti-Israel president for the next four years whose appointments and policies will be more extreme and he no longer has anything to hide or lose."
Baratz also ridiculed US Secretary of State John Kerry on October 18, 2014 when he posted on Facebook that he was present at a speech given by Kerry in which, according to Baratz, he made a connection between Israel and Islamic State.
"After his tenure as secretary of state he is assured a prosperous career as a stand-up comic in one of the clubs of Kansas City, Mosul, or the Holot detention center," wrote Baratz.
In another Facebook post, Baratz took a shot at a more local figure, President Reuven Rivlin. After Rivlin recently flew economy class shaking hands and speaking with passengers Baratz posted, "It means that he is such a minor personality that there's no danger to his life. I suppose we could even send him by paraglider to ISIS-controlled Golan. The next day they will return him…and say: just take him."
Baratz, a doctor of philosophy, was previously fired from his position as lecturer at Hebrew University in Jerusalem. People close to him say he was fired due to his right-wing opinions but the university denied this. He went on to found the right-wing website Mida.
Following the publication of Baratz's statements, members of the government began distancing themselves from him and suggesting that the appointment be reconsidered.
Welfare Minister Haim Katz (Likud) announced on Thursday that he would vote against the appointment.
"Someone who apparently does not think twice before he voices opposition to the symbols of the state is unworthy of being its representative," he said.
Minister for Social Equality Gila Gamliel (Likud) urged "reconsidering" the nomination. "The role of head of the National Information Directorate is most sensitive," she said, and warned that his statements "could be interpreted as an official position."
Opposition chief Isaac Herzog (Zionist Union) said it was necessary to prevent Baratz's assumption of the role. "The head of the National Information Directorate is not the prime minister's personal parrot," said Herzog. "Thinking such a person was right for a governmental role was faulty judgment and so I demand of Netanyahu: Immediately stop Baratz's appointment."
MK Erel Margalit (Zionist Union) sent an urgent missive to the Civil Service Commission opposing the appointment. "The appointment of Baratz, if it is not cancelled, would be a disgrace to the National Information Directorate and turn it into the Likud and Radical Right Information Directorate," he wrote.
Perhaps unsurprisingly given his own statements, Baratz has expressed support for freedom of speech, including during controversies regarding statements by Arab MKs.
Ahead of the 2013 elections, when some demanded that MK Haneen Zoabi be disqualified, Baratz wrote in an article that it was the public's right to decide whether someone was an appropriate candidate. "The war on radical and unconventional opinions empowers them, and freedom of expression is more important than the personal opinion of a politician or judge regarding what he does or doesn't like."
Netanyahu issued a statement on Thursday evening disassociating himself from Baratz's statements.
"I have just read Dr. Ran Baratz's posts on the Internet, including those relating to the President of the State of Israel, the President of the United States and other public figures in Israel and the United States," wrote Netanyahu. "Those posts are totally unacceptable and in no way reflect my positions or the policies of the Government of Israel. Dr. Baratz has apologized and has asked to meet me to clarify the matter following my return to Israel."
Dr. Baratz publicly apologized for the remarks on Thursday evening in a Facebook post. "I apologize for the hurtful remarks I posted on the Internet about the President of the State of Israel, the President of the United States and other public figures in Israel and the United States," he wrote. "I'm sorry that I didn't inform the Prime Minister in advance about them. These postings were written hastily and sometimes humorously, in a manner appropriate for a private person writing on the Internet. It is clear to me that in a government position one must act and express oneself differently."
White House Spokesman Josh Earnest commented on the controversy at Thursday's daily press briefing, saying he had received reports about the comments and about the apology. He added that the apology was warranted, but that Netanyahu's choices are his own to make.
As reported by Ynetnews