Washington – An American aircraft carrier was closely tracked by a Chinese submarine off the coast of Japan last month, a U.S. defense official said, in the latest example of the test of wills between the two countries in the waters of the Pacific.
A submerged Chinese Kilo-class fast-attack submarine shadowed the USS Ronald Reagan for at least half a day on October 24, the official said.
He did not say how close the two vessels came to each other, but he noted, "It was more than a brief encounter."
There was no indication of threatening behavior, and no communications exchanged between the two craft, he said, but American anti-submarine aircraft monitored the Chinese vessel.
Chinese officials have not yet commented on the matter.
Separately, U.S. Secretary of Defense Ashton Carter was on board the USS Theodore Roosevelt Thursday as the carrier traveled through the South China Sea, according to the Pentagon.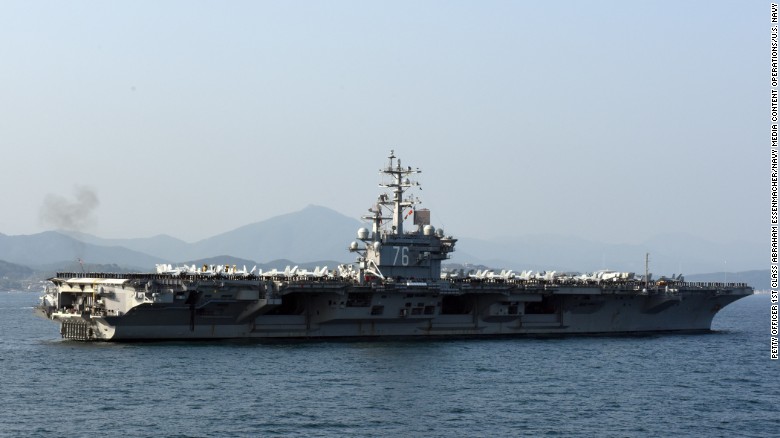 The U.S. defense official played down the threatening nature of the submarine incident, saying that any time the U.S. conducts joint exercises with Japan, the Chinese sometimes "come out and take a look at what's going on."
But it is always a concern when ships operate in close proximity, according to one former carrier strike group commander who has experienced several encounters like this.
"Some person cuts off the other one. Ships can collide. We've had cases where people didn't understand intent, where gun-mounts were trained," said retired Adm. Pete Daly, who now heads the U.S. Naval Institute. "There's the potential for misunderstanding or the potential for a strategic miscalculation."
At the height of the Cold War, American and Soviet ships and submarines would stalk each other across the world's oceans in a high-stakes game of cat and mouse, testing each other's capabilities.
In 1984, a Soviet submarine and an American aircraft carrier, the Kitty Hawk, collided in the Sea of Japan, causing some damage to the Soviet vessel.
But there is also a potential benefit when competing navies have close encounters.
"The truth is, we track them tracking us, and we learn about their capabilities," said Robert Daly, who directs the Kissinger Institute on China at the Woodrow Wilson Center.
"Chinese submarines are growing in number, but they're still relatively noisy," he pointed out. "They're at least a generation behind us. And when they track us, we find out what they are capable of."