British government says evidence suggests Russian jet crash may have been caused by bomb, while anonymous source says mid-air explosion was likely but could have been accidental.
Evidence suggests a Russian jet that crashed over Egypt's Sinai desert may have been brought down by a bomb, the British government said Wednesday, suspending flights to and from the Sinai Peninsula as a precaution.
Meanwhile, an Egyptian source close to the investigation of the plane's black boxes said the cause of the crash is looking more like an explosion but it is not clear whether it was linked to fuel or engine trouble or a bomb.
CNN quoted an anonymous official as saying the latest US intelligence suggests a bomb was the most likely cause of the crash, but has not reached a formal conclusion. "There is a definite feeling it was an explosive device planted in luggage or somewhere on the plane," the official told CNN.
A Russian aviation source said the investigation is looking into the possibility of an object stowed on board causing the disaster.
"There are two versions now under consideration: something stowed inside (the plane) and a technical fault. But the airplane could not just break apart in the air – there should be some action. A rocket is unlikely as there are no signs of that," the source said.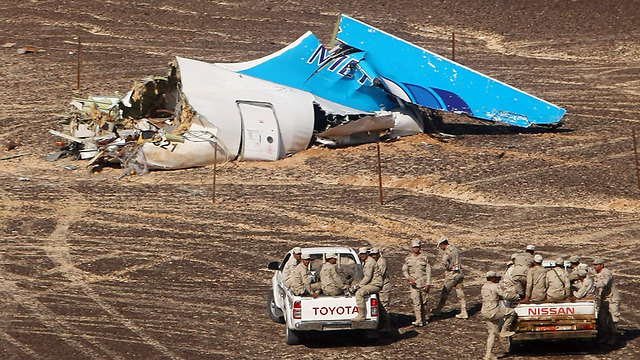 "It is believed to be an explosion but what kind is not clear. There is an examination of the sand at the crash site to try and determine if it was a bomb," the source told Reuters.
"There are forensic investigations underway at the crash site. That will help determine the cause, to see if traces of explosives are found."
Prime Minister David Cameron's office said British aviation experts were travelling to the Sinai tourist resort of Sharm el-Sheikh, where the flight that crashed Saturday originated, to assess security before British flights there would be allowed to leave.
No British flights were flying to the resort on Wednesday, but several were due to leave.
Cameron's Downing St. office said in a statement that it could not say "categorically" why the Russian jet had crashed.
"But as more information has come to light, we have become concerned that the plane may well have been brought down by an explosive device," it said.
Egypt has dismissed claims by Islamic State that it brought down the aircraft.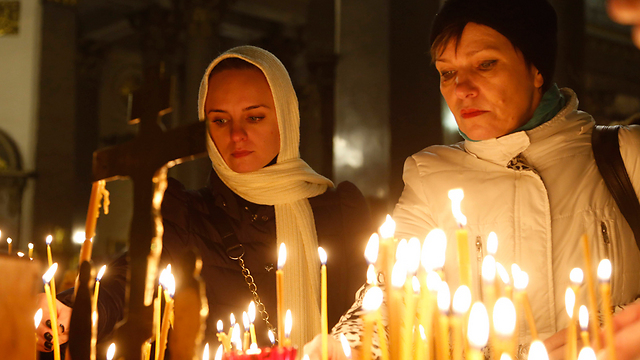 The country's aviation ministry said earlier the cockpit voice recorder from the plane was partially damaged but that black box data had been extracted and validated and was being analyzed.
The British government's crisis committee was to meet later Wednesday to review the situation. Downing St. said Cameron had discussed security at the Sharm el-Sheikh airport with Egyptian President Abdel-Fattah el-Sissi, who flew to Britain on Wednesday for an official visit.
The Metrojet Airbus A321-200 carrying mostly Russian vacationers from Sharm el-Sheikh back to Russia's second-largest city of St. Petersburg crashed over the Sinai early Saturday, killing all 224 people on board.
Rescue teams in Egypt were combing the Sinai desert for more remains and parts of the plane's fuselage Wednesday, as grief-stricken Russian families in St. Petersburg faced an agonizing wait to bury their loved ones.
Only one body has been released to a Russian family for burial so far. Relatives have identified 33 bodies and the paperwork is nearly finished on 22 of those, meaning the families should get the bodies shortly, Igor Albin, deputy governor of St. Petersburg, said in a televised conference call.
Russians were seen sobbing in grief Wednesday at the unruly pile of flowers, photos and stuffed animals at the entrance to St. Petersburg's Pulkovo Airport.
In the Sinai, Russian and Egyptian rescue workers expanded their search area to 40 square kilometers (15 square miles). The Russian state television channel Rossiya-24 reported the plane's tail was found 5 kilometers (3 miles) away from the rest of the wreckage.
Russian officials say the plane broke up in the air 23 minutes after takeoff after reaching an altitude of 31,000 feet. But they have refrained from announcing the cause of the crash, citing the ongoing investigation.
Metrojet, the plane's owner, and Russian authorities offered conflicting theories of what happened. Metrojet officials have insisted the crash was due to an "external impact," not a technical malfunction or pilot error. Russian officials have said it's too early to jump to that conclusion.
Some aviation experts have suggested a bomb was the most likely cause of Saturday's crash, while some others pointed to a 2001 incident in which the Metrojet plane damaged its tail during a rough landing.
Douglas Barrie, military aerospace expert with the International Institute for Strategic Studies in London, said it was too soon to say for sure but the "general suspicion" that an explosive device was involved has been mounting.
He said the British government's decision made sense.
"It's a political decision to err on the side of caution if it has been deemed possible that an explosive device was involved and there are concerns about the levels of security at the airport involved," he said.
Two US officials told The Associated Press on Tuesday that US satellite imagery detected heat around the jet just before it went down.
The infrared activity could mean many things, however, including a bomb blast or an engine on the plane exploding due to a malfunction. One of the officials who spoke condition of anonymity because they weren't authorized to discuss the information publicly said a missile striking the Metrojet was ruled out, because neither a missile launch nor an engine burn had been detected.
Several airlines, including Lufthansa and Air France, stopped flying over Sinai after the crash, but British carriers had kept to their schedules.
Britain did not change its travel advice for Egypt, which advises against all but essential travel to Sinai — where Islamist militants have mounted gun and bomb attacks — but makes an exception for Sharm el-Sheikh.
Almost 1 million Britons visit Egypt each year, many to Sharm el-Sheikh. The resort is also enormously popular with Russians.
As reported by Ynetnews