The military base in Bahrain is aimed at helping Britain and its allies "reinforce stability in the Gulf and beyond," says British Foreign Secretary.
For the first time since before the Yom Kippur War, the UK is to have a permanent military base in the Middle East, the BBC reported Sunday. The base, which is being built at Mina Salman Port in Bahrain, is intended to support deployments of Royal Navy vessels in the Gulf.
The BBC reported from the inauguration of the HMS Juffair, which is also being built at the port. British Foreign Secretary Philip Hammond, acknowledging Bahrain's record of alleged human rights abuses, said at the event that "Bahrain is not perfect by any means, but at least it knows what it has to do and how to do it."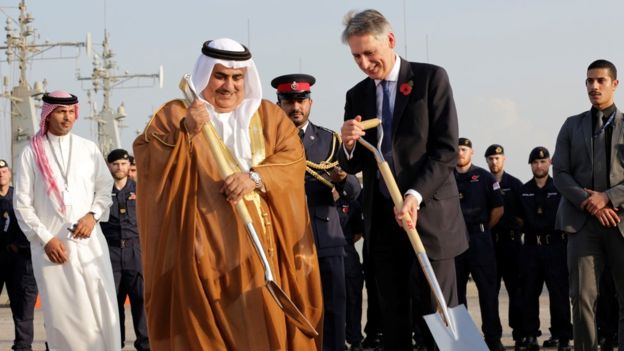 He also referred to the fact that the Bahraini government is seeking Britain's help with reforming its judiciary, police force and prison service, the BBC report continues.
According to Hammond, the new base will help Britain and its allies "to reinforce stability in the Gulf and beyond."
Bahrain is a Shia-majority Gulf state with a ruling Sunni minority. In 2011, inspired by the Arab Spring, Shi'ites began demonstrating in mass popular protests against the regime. Many of the protests were suppressed by police violence, mass arrests and alleged torture of detainees.
As reported by Ynetnews