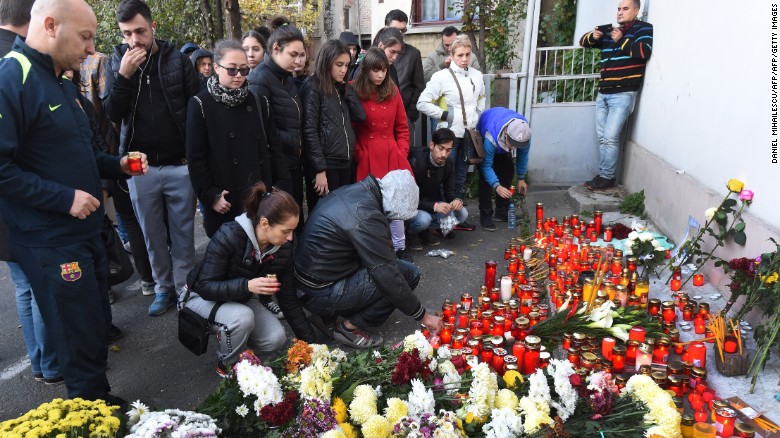 Bucharest, Romania – More than 12,000 people took to the streets of Bucharest on Sunday to commemorate the victims of a nightclub fire that killed 30 people and left almost 150 injured, according to Romanian security forces.
The fire broke out Friday at a basement club in the city's center. Hundreds of young people were attending a free concert by a heavy metal band celebrating a new album.
Eyewitnesses said many in the crowd believed the first moments of the fire were part of the show.
But the blaze quickly erupted, leaving those inside scrambling through smoke toward the lone exit in one of Romania's deadliest fires in recent memory.
People gathered at University Square in Bucharest's city center Sunday before marching silently to the scene of the tragedy.
They carried flowers and candles as well as banners reading "Corruption, greed and indifference kill Romania" and "We have 18,000 churches but only 425 hospitals and we sit and watch our brothers dying on the sidewalks."
Two victims of the fire died overnight and another on Sunday, raising the death toll to 30, according to Raed Arafat, head of the country's department of emergency situations.
Authorities said the death toll could double in the coming days, with at least 35 people listed as being in a critical condition.
Arafat said Saturday that many victims had suffered smoke inhalation and some had severe burns affecting up to 80% of their bodies.
Health officials said Sunday that burn specialists from Israel and Germany had arrived in Bucharest to help treat the injured, and a French team was expected Sunday night.
Romania is marking the tragedy with three days of national mourning.
A campaign has been launched on Facebook calling on people to avoid bars or nightclubs this weekend. Many clubs closed Saturday, canceling plans for Halloween parties.
The fire appears to be the deadliest nightclub blaze since a 2013 fire at a nightclub in Santa Maria, Brazil, killed more than 230 people.
As reported by CNN