The U.S. Coast Guard has suspended the search for big wave surfer Alec "Ace Cool" Cooke off the coast of Oahu, Hawaii.
Cooke's girlfriend reported him missing after the 59-year-old failed to return from a surf trip on Wednesday, the Coast Guard said in a statement late Saturday.
The Coast Guard said the Hawaii Police Department had informed it on Thursday morning that Cooke's truck had been found at a church near Waimea Bay, with his dog and keys still inside. A friend later recovered his surfboard, it said.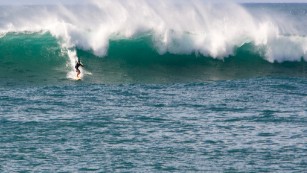 A Coast Guard HC-130 Hercules plane, the USCGC Kittiwake, as well as Coast Guard and Hawaii Fire Department helicopter crews were involved in the search for Cooke, covering an approximately 8,900-square-mile area.
"As with any missing persons search we saturated the area in an attempt to locate Mr. Cooke, but pending further developments, we have decided to suspend the active search. The Pacific Ocean is very dangerous, especially when we have heavy surf conditions. Our thoughts go out to his friends and family," said Cmdr. Arex Avanni, deputy commanding officer at Coast Guard Sector Honolulu.
"We've suspended several searches recently for folks who've gone missing in the water without locating them, and it does not get easier," Avanni said.
"Ace Cool" Cooke was known as the Evel Knievel of the big wave surf world, according to Surfer magazine's Encyclopedia of Surfing.
In an article on surf legends published last month, the magazine said Cooke had risen to fame after riding waves in 25- to 35-foot surf at Outside Pipeline, off Oahu's North Shore, in 1985.
Sending aloha 2 all who loved big wave surfer Alec "Ace Cool" Cooke. May he find & ride the biggest waves. #acecool pic.twitter.com/O4dUYnThhG

— Hakipuuterry (@Hakipuuterry) November 1, 2015
A photo of his feat, titled "The Biggest Wave," became a T-shirt and the "best-selling postcard in Hawaiian history," it said, and a documentary — "In Search of the Biggest Wave" — came out the following year.
As reported by CNN