Islamist AK Party garners 49.5 percent of votes, with 95 percent of votes counted in major boost for Erdogan; clashes break out between security forces and Kurds in Diyarbakir.
Turkey looked set to return to single-party rule after the Islamist-rooted AK Party swept to victory in a general election on Sunday, a major boost for embattled President Tayyip Erdogan but an outcome likely to sharpen deep social divisions.
Prime Minister and AKP leader Ahmet Davutoglu tweeted simply: "Elhamdulillah" (Thanks be to god).
Security forces fired tear gas at stone-throwing protesters in the mainly Kurdish southeastern city of Diyarbakir as results filtered in, with support for the pro-Kurdish opposition falling perilously near the 10 percent threshold to enter parliament.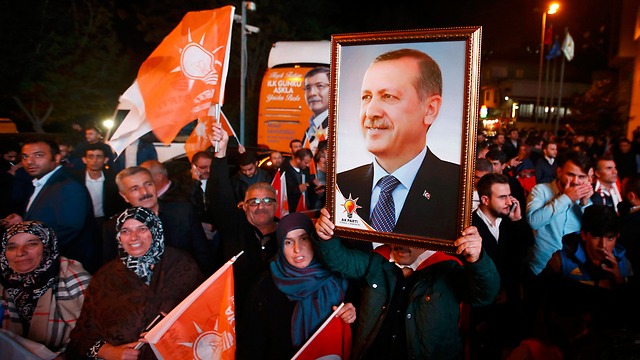 In June, the AKP lost the overall majority it had enjoyed since 2002. Erdogan had presented Sunday's polls as a chance to restore stability at a time of tension over Kurdish insurrection and after two bombings, attributed to Islamic State, while critics fear a drift to authoritarianism under the president.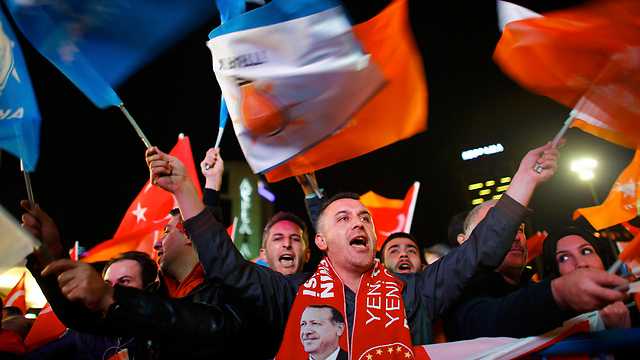 With 95 percent of votes counted, the AKP was on 49.5 percent, according to state-run broadcaster TRT, higher than many party officials had expected. The main opposition CHP was at 25.2 percent and a senior official said any hopes of a coalition now looked all but impossible.
Senior AKP officials told Reuters they expected to be able to form a single-party government again, with one of them forecasting a final share of around 45-46 percent of the vote.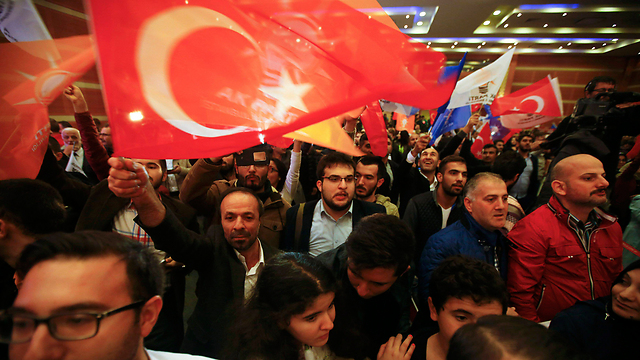 "This is a success exceeding our expectations," one of the officials said, acknowledging the scale of the victory was a surprise.
Since June's poll, a ceasefire with Kurdish militants has collapsed, the war in neighboring Syria has worsened and Turkey – a NATO member state – has been buffeted by two Islamic State-linked suicide bomb attacks that killed more than 130 people.
Investors and Western allies hoped the vote would help restore stability and confidence in an $800 billion economy, allowing Ankara to play a more effective role in stemming a flood of refugees from neighboring wars via Turkey into Europe and helping in the battle against Islamic State militants.
But in strengthening Erdogan, whose crackdowns on media freedoms and tightening grip on the judiciary have alarmed European leaders, the outcome is likely to mean relations with the West will remain strained.
Erdogan and the AKP have been a fierce critics, for example, of U.S. support for Kurdish militia fighters battling Islamic State (IS) in neighboring Syria.
As reported by Ynetnews