Recent wave of violence has had a negative impact on Jerusalem's bars and restaurants, with people too scared to go to crowded venues.
The current wave of terrorist attacks that has hit Jerusalem and other parts of Israel has made some Israelis rethink their daily routines.
"They call it terror for a reason," said Udi Kaniel, co-owner of Jerusalem's restaurant bar Mike's Place to Tazpit Press Service. "People are terrified and people are staying in and not coming out."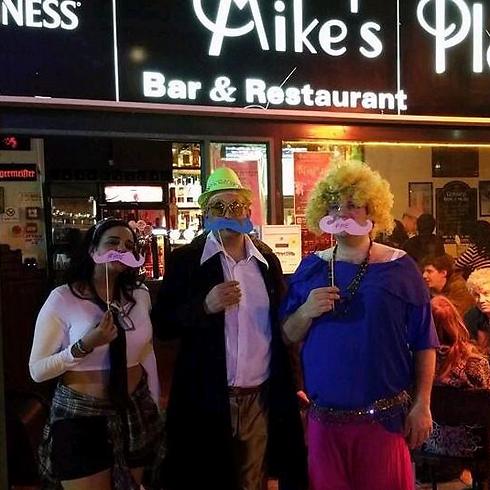 Located in downtown Jerusalem, Mike's Place is a popular venue for a variety of events among which include concerts, special dinners, and sports-watching. However, just like every other business in downtown Jerusalem, the restaurant bar has experienced a decline in business since the spike in terrorist attacks two weeks ago.
"It's clear that business is down substantially due to the situation," noted Kaniel to TPS. "It has hurt every single business in this area. Other business owners I know are suffocating and in a place where they really don't know what to do."
Kaniel also referenced the smaller than usual crowd of customers at Mike's Place this past Sunday. "It's always nice and busy on Sundays during the NFL season, when we show a lot of NFL games," explained Kaniel. "However, last Sunday was substantially less busy as some of our distinct group of regular customers didn't show up. We felt the effect on our busiest of day of the week during this time of year."
Despite the predicament Jerusalem residents currently face, Mike's Place is doing whatever it can to help locals keep their spirits up. "We at Mike's Place try to put our happy hats on all the time and be optimistic," Kaniel said. "When the guests come in, we try to avoid direct conversation with them about the situation because people come here to get away from problems, relax and be happy."
Terrorism is not a new phenomenon to Mike's Place as the restaurant bar has been the scene of terrorist attacks in the past. "I remember car bombs exploding outside of Mike's Place," Kaniel said recounting his experiences as a customer of Mike's Place during the Second Intifada.
"I remember holding my beer and just seeing a car explode." Back then, Mike's Place was at a different location albeit not so far away from its current address off of Jaffa Street near Jaffa Center.
"Every couple of years we get a repeat of some kind of terror situation," added Kaniel. "But Mike's Place has always been resilient and will continue to be a home of sports, live music, delicious food, and a great drink for the foreseeable future."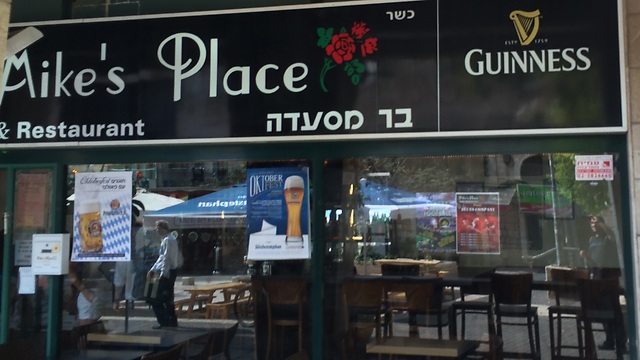 Kaniel also shared with TPS his own individual resilience. "I live in Israel and I intend to stay in this country for the rest of my life along with my business."
Other Jerusalem locals have also adopted a resilient attitude. "A lot of people are understandably scared about the current situation, but I think the most important thing is that we cannot show them fear," said Zvi Besser, an American-Israeli currently serving in the IDF to TPS.
As an active IDF soldier, Besser is privileged with the legal right to walk around the country with his gun provided that he abides by all IDF regulations. Other Israelis must fulfill certain legal benchmarks in order to obtain a gun license permit. Besser therefore, feels he has a certain level of responsibility to not only look after himself but for other citizens as well.
"Before we leave base, we are told that we are still soldiers," Besser said. "Even when we're not on base and in civilian clothing, we are always soldiers and our job is to protect the country no matter the hour or location."
Daniel Cohen, a 19-year-old American who recently immigrated to Israel told TPS that he believes that everyone must go about their daily routine. "If we show fear, we lose," he said. Cohen summed up his perspective by quoting former US President Franklin Roosevelt.
"The only thing we have to fear is fear itself.
As reported by Ynetnews