After the cultural and academic boycotts of Israel, it's time for the culinary boycott: The Boycott, Divestment and Sanctions (BDS) Movement has launched an international campaign against Round Tables, a major culinary event which will begin in Tel Aviv this coming Sunday.
Some 26 top chefs and restaurateurs from famous restaurants around the world are expected to participate in the event and cook in upscale restaurants in Tel Aviv throughout the month of November.
BDS is calling on the participating chefs to boycott the event under the banner, "Take Apartheid off the Menu." The movement has also called on its supporters on social media to bombard the chefs with emails and messages through Facebook and Twitter, in a bid to convince them to stay away from the event, which is "sponsored by Israeli government ministries, the Tel Aviv Municipality and businesses operating in illegal Israeli settlements."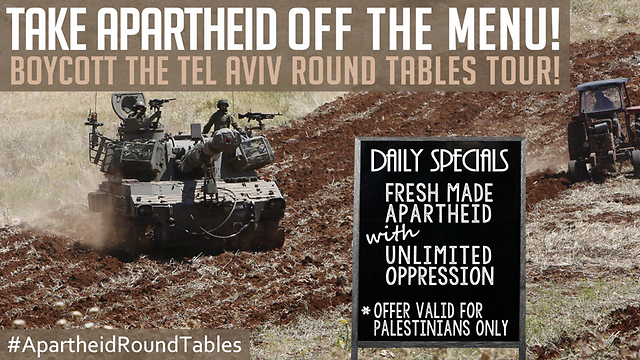 The movement sent the chefs a letter signed by more than 130 civil society groups, stating: "We urge you to reconsider your involvement in this initiative aimed at using haute cuisine to mask Israel's denial of Palestinian basic rights. Please cancel your participation in the Round Tables event until everyone has a place at the table."
According to BDS, "The initiative is even more tasteless as it comes on the heels of brutal Israeli repression against Palestinians protesting for their rights and freedom in the Occupied Territories and inside Israel.
"Racist incitement by Israeli officials and public against Palestinians has reached shocking and unprecedented levels," the movement added, failing to address the recent stabbing attacks in Israel, which have left 11 Israelis dead in the past month.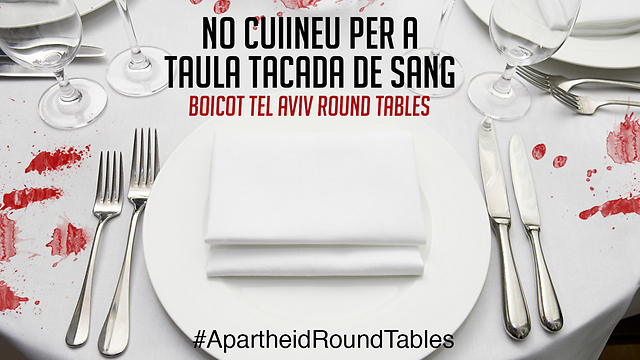 In its open letter to the chefs, the boycott movement accused Israel of killing more than 500 children in Gaza and "forcing Palestinian communities off their land as part of Israel's ongoing ethnic cleansing.
"Though you will have no problem traveling to Tel Aviv," the chefs were told, "roughly 7 million Palestinian refugees and internally displaced persons resulting from Israel's ongoing ethnic cleansing are denied the right to return to their lands.
"While the Round Tables event is presented as a 'fruitful dialogue about culture, economy, and social issues,' it is instead an appalling use of the time-honored tradition of sharing culinary experiences as a means for whitewashing widespread violation of Palestinian fundamental rights, including the right to food.
"We urge you not to lend your culinary talents to mask Israel's crimes."
The initiators of the Round Tables by American Express event offered the following response: "The project will take place as planned. All the guest restaurants and chefs are on their way to Israel. Some of them have already landed in the country and have begun their activity in the hosting restaurants. All the international chefs are happy to take part in the initiative out of great interest and an acknowledgement of the developing culinary scene in Tel Aviv and Israel."
As reported by Ynetnews