Supreme Court judge turned pop culture icon Ruth Bader Ginsburg is the darling of liberals around the world and an unlikely internet sensation; a new book explores the life and times of the woman known as 'the Notorious RBG.'
A Supreme Court Justice is perhaps an unlikely candidate for becoming a pop culture and internet sensation. But Ruth Bader Ginsburg, who is in her eighties and has sat on the Supreme Court since 1993, is something of a pioneer.
From arguing with an all-male Supreme Court on cases involving women's rights to combing groundbreaking views with pragmatic implementation, Justice Ginsburg has gradually become all things to all liberals: a humane interpreter of the law, a dedicated servant of her society and a feminist inspiration to younger generations of girls and women.
"Over the course of Justice Ginsburg's career, she often had no choice but to be the first, but she never wanted to be the only,"writes Irin Carmon in the New York Times. Carmon is well-placed to make such a pithy assessment of Justice Ginsburg's life: she is the co-author, along with Shana Khizhnik, of a new book about the woman now known as "the Notorious RBG."
The name is a play on the pseudonym of rapper Christopher Wallace, more famously known as "The Notorious B.I.G." Carmon and Khizhnik's book, "Notorious RBG: The Life and Times of Ruth Bader Ginsburg," developed out of a Tumblr blog inspired by a powerful dissent Justice Ginsburg gave in the Supreme Court case which ended with the Voting Rights Act being struck down.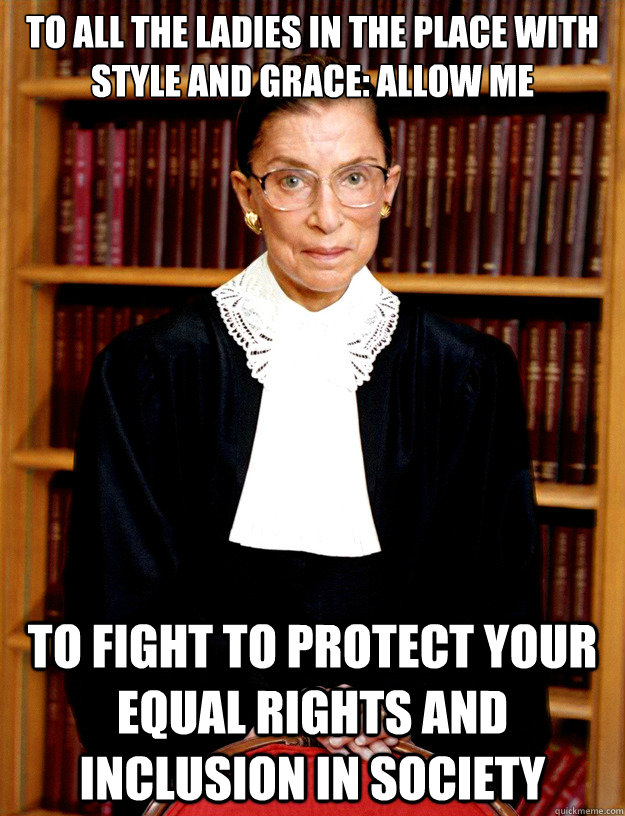 Since the Tumblr started, Justice Ginsburg's legion of fans has continued to grow exponentially. Kitted out with t-shirts, badges and even tattoos, devotees of "the Notorious RBG" have helped turn her into a household name. Yet this is not empty fame – as Carmon writes in her NYT piece, her fans are "inspired by her fiery dissents to the conservative majority opinions."
There was a time that Justice Ginsburg felt that her Jewishness acted as a strike against her. In a review of the book, The Forward relays the fact that despite graduating top of her class at Columbia University, she was turned down for every law firm position she applied for. In her view, she believed "She had three strikes against her: She was a woman, the mother of a four-year-old, and a Jew." At the same time, however, "Jewish law taught (Justice Ginsburg) about a commitment to justice."
An anecdote shared by Carmon in her op-ed perhaps sums up better than anything Justice Ginsburg's ethos. When asked to give advice to her younger female fans, Ginsburg replied: "My advice is fight for the things that you care about. But do it in a way that will lead others to join you."
As reported by Ynetnews