North Korea's catalog of abuses against its own people within the secretive country's tightly controlled borders has been widely reported. But Kim Jong Un's regime is also believed to be pocketing huge sums from tens of thousands of its citizens who are sent abroad to toil in forced labor conditions, the United Nations says.
The laborers are made to work as long as 20 hours a day without enough food and under constant surveillance, according to a new report from Marzuki Darusman, the U.N. special rapporteur on human rights in North Korea.
He told a news conference Wednesday that the practice has become more visible in recent years and that "the numbers have grown."
"I think it reflects the really tight financial and economic situation in the North," Darusman said.
The overwhelming majority of the workers are employed in North Korean allies China and Russia, according to the report. But the rest are spread across a range of countries in Asia, the Middle East, Africa and Europe.
Harsh conditions, little or no pay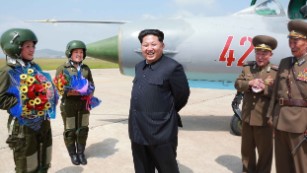 CNN reported on the practice in May, highlighting the case of a North Korean man who worked on a construction site in Kuwait for five months without receiving any pay. He eventually managed to escape his minders and take asylum in the South Korean Embassy.
His story chimed with those of other escaped workers who have told rights groups of long hours, little or no pay, no freedom and harsh living conditions.
Those who do get paid are believe to receive between $120 and $150 a month, but their employers "pay significantly higher amounts" to the North Korean government, the U.N. report said.
Kim's regime appears to be orchestrating the system "to circumvent United Nations sanctions imposed on the country with a view to earning currencies," it explained, citing a 2012 report from a rights group that estimated North Korea was raking in between $1.2 billion and $2.3 billion a year from the scheme.
Much of the money generated by the workers is believed to be diverted to the regime's military and nuclear program, as well as to its elite inner circle.
Companies 'complicit in an unacceptable system'
Governments in the host countries appear to be turning a blind eye to the abuses of the North Korean workers' labor rights, Darusman suggested.
He warned that companies hiring the workers "become complicit in an unacceptable system of forced labor."
"They should report any abuses to the local authorities, which have the obligation to investigate thoroughly, and end such partnership," his report said.
It estimated the number of North Koreans working abroad to be above 50,000, attributing the number to a 2014 study by the Asan Institute for Policy Studies. A South Korean government official told CNN earlier this year that the total is thought to be around 100,000.
The main industries employing them are mining, logging, textiles and construction.
Darusman said the overall human rights situation in North Korea remains "dire," adding that its government had declined or ignored his repeated requests to meet.
As reported by CNN