Prosecutor decides not to indict young woman for terrorism; Asaa Zidan reportedly attempted to stab soldier, but apparently wanted soldier to kill her.
The prosecutor for the northern district will not accuse Asraa Zidan, 30, of trying to commit an act of terrorism. Instead, the indictment against her will be for a criminal act.
Members of Zidan's family said they knew immediately that she would not be charged with being a terrorist.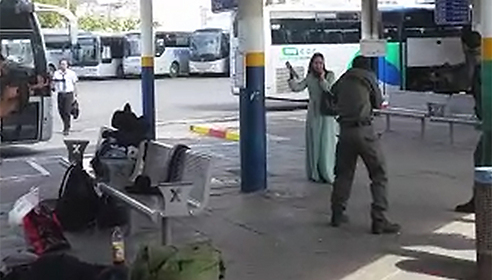 The Shin Bet and the police came to the conclusion that Zidan did not try to carry out a terrorist attack but rather attempted to commit suicide, which she has tried several times in the past. On this occasion, she had found an original way to do so.
According to their assessment, with Zidan's history of mental health problems, she decided to make use of the current security situation and commit suicide in a "heroic way."
The Shin Bet and the police also studied footage of the incident and saw that Zidan was standing next to an ultra-Orthodox man but did not try to stab him. A source at the prosecutor's office said that while a decision had still not been received regarding the indictment against Zidan, the facts speak for themselves.
The source noted that during the event she didn't attack anyone even though she could have at first: she just grasped the knife and shouted.
Police sources expressed surprise regarding the new developments, saying that Zidan indeed voiced a desire to die during questioning and was even angry that the soldiers who shot her had not killed her.
Zidan's relatives said on Wednesday that they "knew from the beginning that they would not charge Asaa as a terrorist.
"She is not," they added. "Everyone knows her and how intelligent and successful she is. She absolutely never thought about hurting others. The articles describing her as a terrorist were very unfortunate. We are certain that she will be released and come home with her head held high."
Zidan has a 10-year-old daughter and is separated from her husband. Her friends said soon after the incident that she had previously studied for a university degree at a medical laboratory and was studying in a preparatory program with the goal of teaching biology.
"I know her very well, and she absolutely never thought she would hurt either Jews or Arabs," said a friend. "I am certain that she did not try to hurt a soldier like they say. She was shot in cold blood. We saw that she posed no danger to anyone."
As reported by Ynetnews