After PM raises possibility of revoking benefits from Palestinians living on other side of separation wall, Washington says such a movie would 'be of concern.'
The US warned Prime Minister Benjamin Netanyahu on Monday against making unilateral moves in East Jerusalem, such as an idea raised by the prime minister to revoke benefits and travel rights of some Palestinians living in East Jerusalem in response to a wave of Palestinian violence.
"If it was true it would certainly be of concern to us," State Department spokesman John Kirby told a daily briefing.
White House spokesman Josh Earnest said that the Israeli government is not yet actively considering this change, as far as the American government knows.
Earnest said that given the current wave of violence, the US wants to reiterate the "importance of all sides avoiding provocative actions and rhetoric."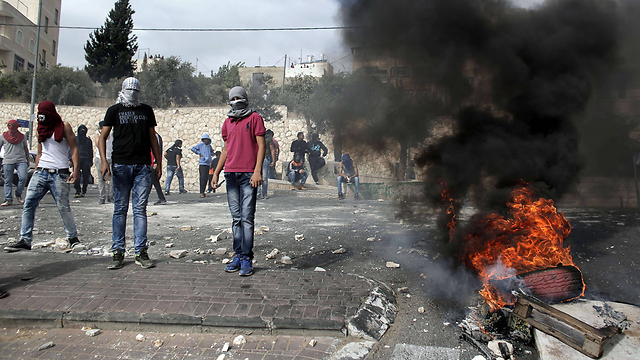 Netanyahu brought up the need to address the situation in East Jerusalem's neighborhoods beyond the separation wall during a cabinet meeting that took place two weeks ago.
"There is no enforcement there, no law," Netanyahu said. "We need to examine the possibility of canceling their residency. There needs to be a discussion about it."
However, there has been no further discussion of the issue.
The prime minister also raised the need to examine how law enforcement and security can be improved in these neighborhoods through the deployment of extra police and army units.
The neighborhoods in question are within Jerusalem's municipal boundaries but lie outside the wall and are considered extremely problematic from a security perspective.
Netanyahu's proposal to consider the revocation of East Jerusalem's Palestinians' residency permits was received with mixed feelings in the Shuafat refugee camp.
Precisely because of the relative calm, which according to residents was reached following a meeting between Jerusalem Mayor Nir Barkat and leaders of the camp, Netanyahu's statement at the cabinet meeting surprised them.
"People discussed this quite a bit last night and tried to understand its meaning. Some were shocked but most believed that the move is aimed to create pressure among the residents," said Chairman of the Ras Khamis neighborhood of the camp, Jamil Sanduka. "Everyone knows that to carry out such a decision a lot more has to be done. This is not a simple decision that can be executed easily."
The camp, which at the beginning of the current wave of escalation was very much involved in the conflict with security forces, and from which several terrorists who carried out several stabbings originated, has quieted down in recent days. The students have returned to school after many days in which there were no classes, and demonstrations in the square at the entrance of the camp replaced the schoolyard.
Even in Kafr Aqab, a Jerusalem neighborhood on paper but which is outside the security fence, heard about the matter last night. "We are Palestinians, but we are also residents of East Jerusalem," said Samih Abu Ramila, a neighborhood resident. "If they want to revoke our identity card, no problem – as long as we can enter and pray in Al-Aqsa, receive an education in the city and live in it. I was born in Jerusalem. Even if they revoke my identity card, they cannot deny the fact that I am a Jerusalemite."
"If he makes a such a move, it would be a declaration of war on the residents. You can not take away the rights and dignity of people. You want to revoke the card, then let the Palestinians have sovereignty over East Jerusalem, then we will get a Palestinian residency card and passport got a certificate and a passport Palestinians and we will receive all the necessary services as residents," Abu Ramila continued.
In Kafr Aqab and Shu'fat refugee camp people are in agreement about the fact that tens of thousands of people are being collectively punished for a handful of people carrying out attacks or confronting security forces.
"That a hundred children come out to clash with security forces at the checkpoint does not make all 80,000 residents terrorists. Such a decision divides Jerusalem and also punishes collectively. People in the camp work and make a living in Jerusalem. If you deprive them of the blue card (Israeli residency card) what they will do with their lives? Nothing. What then? They will join Hamas as they will have no other choice," Sanduka said.
"What have I done that makes him want to make me his enemy? Because there are some hotheads we have to pay the price? This is how to solve this problem? If he revokes our documents he should do the same to the hilltop youth. They don't engage in terrorism?" Sanduka concluded."
Hanan Ashrawi, a member of the executive committee of the Palestine Liberation Organization, said the step, if adopted, would deprive Palestinians in Jerusalem of the most basic rights and services and provoke confrontations. "This alarming escalation, an inhuman and illegal measure, must be stopped immediately," Ashrawi said in a statement.
As reported by Ynetnews