In light of 'Back to the Future' Day, the New York Times asked its online readers whether they would be prepared to use a time machine to go back and kill 'baby Hitler.' What were the responses?
Prime Minister Benjamin Netanyahu stirred controversy this week when he claimed that Nazi leader Adolf Hitler had not set out to destroy European Jewry, but rather deport them. It was Grand Mufti Haj Amin al-Husseini, Netanyahu said, who persuaded Hitler to carry out the "Final Solution" when the two of them met in 1941.
This is not the only storm that's been caused by the subject of the Nazis this week. The New York Times Magazine also created an online squall when it asked its online readers on Friday whether they would be prepared use a time machine to go back and kill Hitler – and as a baby, no less.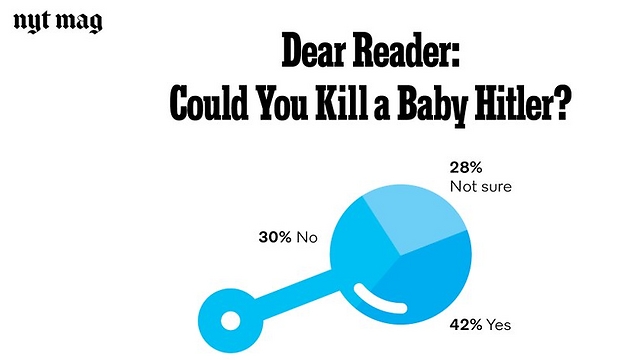 The question came on the heels of Thursday's "Back to the Future" Day, held in honor of the popular '80s film series that dealt with exactly the kind of conundrum posed by the New York Times.
Forty-two percent of respondents said that they would kill baby Hitler, while 30 percent said they wouldn't. Twenty-eight percent were undecided. According to the subsequent discussions on Twitter, those who voted "no" didn't do so just because of their unwillingness to kill a baby, but also because they were afraid of triggering the "grandfather paradox."

According to this paradox, an attempt to prevent a particular event in history by using time travel can lead to unexpected consequences.
The hashtag "#babyhitler" started trending on Twitter, drawing many responses. One user tweeted: "I would absolutely have gone back in time to kill Hitler," while adding, "although unfortunately, killing baby Hitler would not stop the rise of fascism."
Another tweeter, expressing reservations about the entire discussion, said: "At the very least I would not follow a conversation about baby Hitler on twitter." Indeed, many simply expressed surprise that such a topic was trending on Twitter at all.
The Washington Post, for its part, published an opinion piece suggesting that the smart time travel mission would have been to snatch Hitler in his cradle from his parents and raise him alone.
According to the article, for the next 18 years Hitler would have to be prevented from growing up listening to the music of Wagner, should be given a cuddly giraffe toy, convinced to love Britain and persuaded that his room does not need more "living space."
He should also, the article continues, be praised for his paintings.

The New York Times Magazine responded to controversy over the poll by tweeting, one hour after it put up the original questions, simply: "lol."
As reported by Ynetnews