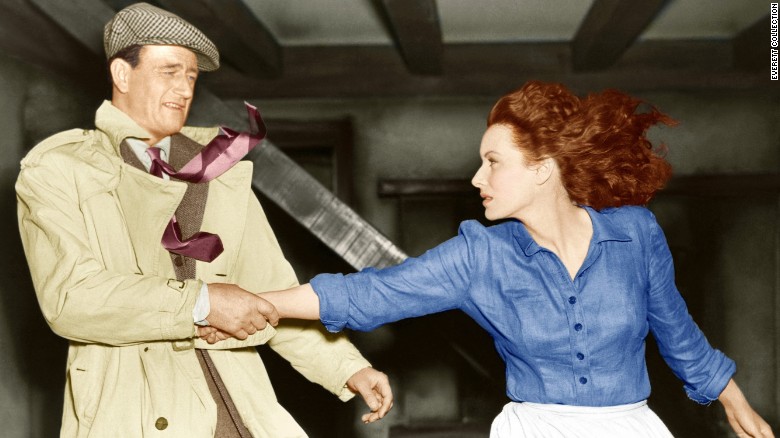 Legendary actress Maureen O'Hara, best known for her roles in "Miracle on 34th Street" and films by John Ford, died Saturday of natural causes, her family said.
O'Hara, 95, passed away in her sleep at home in Boise, Idaho.
"Maureen was our loving mother, grandmother, great-grandmother and friend. She passed peacefully surrounded by her loving family as they celebrated her life listening to music from her favorite movie, 'The Quiet Man,'" a family statement said.
O'Hara was born Maureen FitzSimons in Ranelagh, Ireland, a suburb of Dublin, where her mother was an accomplished contralto and her father ran a business and was part owner of a soccer team, according to her biography on the Internet Movie Database. She was one of six children.
O'Hara starred in films with leading men such as Tyrone Power in 1942's "The Black Swan," Douglas Fairbanks in 1947's "Sinbad the Sailor," Sir Alec Guinness in 1960's "Our Man In Havana," as well as John Payne, Rex Harrison, James Stewart, Henry Fonda, Brian Keith and John Wayne.
O'Hara and Wayne made "The Quiet Man" in 1952, directed by Ford. O'Hara was a favorite of Ford, who cast her in five films, including "How Green Was My Valley" in 1941. The film won five Academy Awards, thought not by O'Hara.
O'Hara and Wayne held great chemistry on the screen, and Ford also directed them in 1950's "Rio Grande" and 1957's "The Wings of Eagles."
A passionate redhead with green eyes and "peaches and cream complexion," O'Hara played heroines and became known as the "Queen of Technicolor," according to Biography.com.
She came to Hollywood in 1939 to star as Esmeralda with Charles Laughton in "The Hunchback of Notre Dame."
In the 1947 holiday classic "Miracle on 34th Street," O'Hara plays a no-nonsense supervisor at a Macy's department store where Kris Kringle goes to work and claims to be the real Santa Claus. The film co-starred a young Natalie Wood.
When in her 40s, she advanced her singing voice in television appearances and records. She also took roles in family comedies, including "The Parent Trap" in 1961.
In her autobiography, written with longtime manager John Nicoletti, O'Hara wrote:
"When I was young, I didn't think I was at all pretty. I was told only that I had a sulky, pouty face. Ironically, after I got to Hollywood, I resented that I didn't get a crack at more dramatic role because I photographed so beautifully. More than anything, though, it was the way I used my eyes that caused audiences to look deep inside my characters to see what else was there."
Last November, she received an honorary Oscar for lifetime achievement.
"Her characters were feisty and fearless, just as she was in real life. She was also proudly Irish and spent her entire lifetime sharing her heritage and the wonderful culture of the Emerald Isle with the world," the FitzSimons family statement said.
"For those who may ask what they can do to honor Maureen, we have a simple request: visit Ireland one day and think of her," the family said.
As reported by CNN