As part of Breast Cancer Awareness month, one of Tel Aviv's most famous statues, the discs in Habima Square, have been decked out in a giant pink bra. The artists who created the biggest bra in the Middle East say: 'As two nutcases who love challenges in the street and in all shapes and sizes, we said – of course it's possible.'
The famous statue in Tel Aviv's Habima Square has a new feature: An enormous pink brassiere, with each "cup" measuring five meters across. The garment will temporarily grace Moshe Kadishman's work in honor of Breast Cancer Awareness Month in October.
The stunt is the initiative of the non-profit organization One out of Nine, which works to call on all women aged 30 and above to go and get checked for breast cancer. The "new" statue has generated much interest from passers-by, who stop and photograph the installation.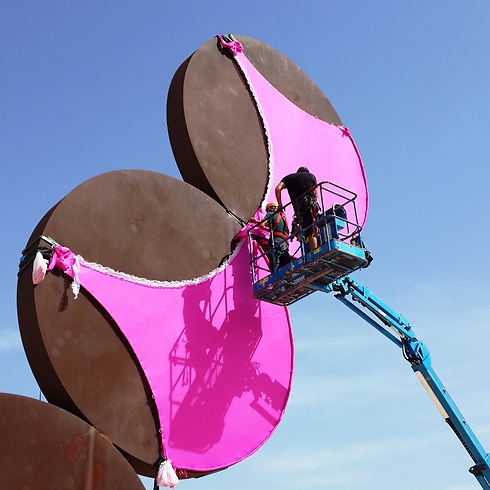 The statue will wear the bra until midnight on Saturday.
Two artists – David Dush Barashi and Danny Bar Shai from the studio Everything is Honey – were recruited to carry out the awareness-raising task. They got to work on an idea of advertising agency Reuveni Friedman, which had been involved in a previous project for One out of Nine in partnership with Kadishman.
"The advertising agency came up with the idea and hesitated over whether it was possible or not," Barashi told Ynet at the foot of the statue.
"We are two nutcases who love challenges in the street of all shapes and sizes, so we said – of course it's possible."
This is perhaps an opportunity to remind the Tel Aviv Municipality that it also has a task, which is to address the sorry state of Kadishman's statue. The steel has become worn over the years as well as being subjected to vandalism and graffiti.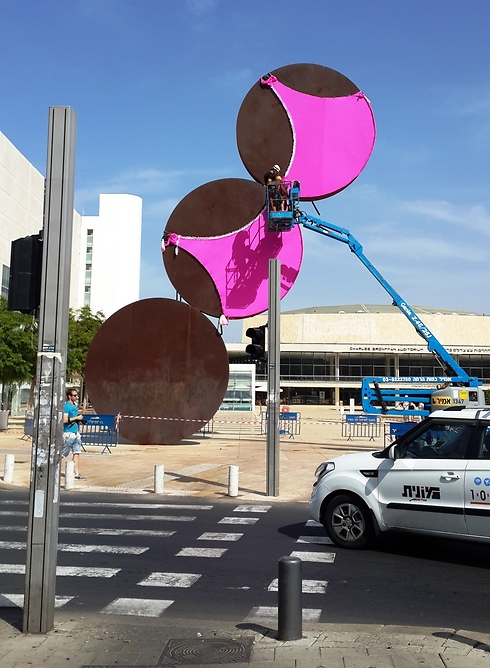 One of the White City's most prominent artistic symbols has turned into a pile of dirty iron that deserves greater care.
The organization One out of Nine has been assisting women with breast cancer since 1994. The non-profit provides support via volunteers who have recovered from breast cancer themselves, as well as emotional support from professionals and assistance with acquiring information.
The organization is also active in disseminating information to help early discovery of the disease via screening and advocates for a change in policy in this area in Israel.
As reported by Ynetnews