From under a mattress, a small child emerges on all fours, oblivious to the danger in the skies. Out from another mattress crawls a baby.
Rare amateur video obtained by CNN shows entire families in farm fields cowering under mattresses as they attempt to shield themselves from airstrikes — as if bedding could protect them from aerial bombardment.
The video, reported to be from the countryside south of Aleppo, provides a harrowing view of the toll Syria's war is taking on mothers, fathers, children and babies. Aid agencies say tens of thousands of people may be on the move from this swath of poor farmland as fighters from the Syrian regime, Iran and Hezbollah move through on their way to Aleppo.
Ambassador: 'Decisive battle' ahead
The situation is confused in Aleppo, Syria's largest city, with a population of over 2 million people. It's about 120 kilometers (75 miles) from the Mediterranean coast and the same distance from the southern Turkish city of Gaziantep.
Aleppo has been the focus of a great deal of fighting in Syria's brutal 4 ½-year civil war, and much of the city has been reduced to rubble. It is clear that a major battle is looming for control of the city, a sometime stronghold of the Free Syrian Army, which opposes the regime of Bashar al-Assad.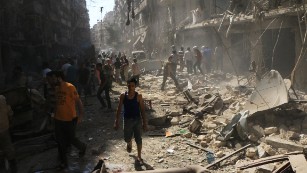 Syria's ambassador to Russia, Riad Haddad, was quoted by Russian state media as saying there was "heavy fighting" ahead as Syrian troops braced for a "decisive battle" to retake the city. He acknowledged that there were Russian airstrikes in the area.
"Our troops, backed by Russian aviation, are encircling the city and preparing for a ground invasion," Haddad said in an interview with the news site Gazeta.ru.
Child's pajamas won't be enough for winter
And the anti-Assad Syrian Observatory for Human Rights reported clashes in, among other places, the countryside south of Aleppo. The group said it has no information on casualties.
The group also said that regime aircraft have launched strikes in the Aleppo area — making it uncertain whether the strikes shown in the amateur video came from the Syrian regime or its Russian allies.
On the ground, the people driven from their homes have yet another enemy to face: the approaching winter.
A mother shown in the video grabs her young daughter's pajamas. They were all right for summer, the mother says, but will not be enough when the temperature drops.
In the heat, the mother says, their faces burn.
"In the cold days," she says, "the cold kills us."
As reported by CNN