In a vivid new description of ISIS' brutal executioner, a former hostage says his captor was not only sadistic, but bizarre.
Daniel Rye, a 26-year-old photographer from Denmark who was held captive in Syria for more than a year, said that one of his jailers was the hooded figure in black who spoke in ISIS execution videos.
In an interview this week, Rye described an encounter with the man, who has been nicknamed"Jihadi John" by the British tabloids.
"He picked me up and I had to dance the tango, John and I," Rye told Danish broadcaster DR. "My head was down and afraid of being beaten. He led me around the prison. Suddenly, he changed and just pushed me down. They kicked and hit me. They finished by threatening to cut my nose off with pliers and things like that."
Western officials have identified the man as Mohammed Emwazi.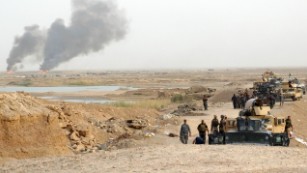 Michael Weiss, co-author of "ISIS: Inside the Army of Terror," said Emwazi displayed an "almost '(A) Clockwork Orange' sense of sinister humor about torturing."
"It's just another addition to the sick and twisted annals of the way ISIS treats human beings," he said.
Former CIA analyst Aki Peritz says it is likely that Emwazi, like many ISIS recruits, is drawn to the grotesque.
"The guys who run this organization, a lot of these guys who control their hostages, they're sadists," he said.
Weiss said that online supporters of ISIS have reacted with glee to the story of the tango. Fairly or unfairly, he said, supporters of ISIS are trying to draw a moral equivalence between the mistreatment of jihadi suspects by American interrogators and the mistreatment of kidnapped Westerners by ISIS — from the orange jumpsuits to the forced stress positions.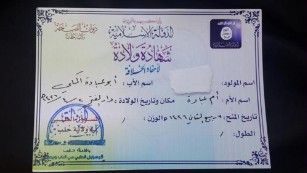 Emwazi has not appeared in a beheading video since January, and Weiss said it is unclear whether he is even still in Syria.
"His status has actually taken a beating in the last few months, since he's been outed," Weiss said. "He has apparently fled. So he's not quite the celebrity and the spokesman that he used to be."
One possible explanation, Peritz says: ISIS might be running low on Western hostages to murder.
But Peritz warns, that does not mean that Emwazi is no longer a threat. "If there's another Western hostage," he said, "you better believe that he's going to be in that video."
Rye was held hostage in Syria from May 2013 until June of 2014, sometimes with other foreign prisoners including American James Foley. He told the Danish newspaper Berlingske that Foley stood out as a warm and righteous man, even in captivity, where there were fights about food, and aggression was often just below the surface.
Rye said he committed to memory a final letter from Foley, and conveyed it to Foley's family soon after he was freed.
"It was terrible. It was a death letter, a farewell to his family," he told Berlingske. "If I were to think of the letter every day, then I would be a wreck today."
Rye was released, reportedly for a large ransom paid by his family, two months before Foley's beheading was shown in the first of a series of gruesome ISIS videos.
As reported by CNN