Cabinet approves use of non-combat soldiers to protect public transportation; temporary checkpoints around East Jerusalem likely.
The Cabinet on Tuesday approved Transportation Minister Yisrael Katz's initiative to place additional security for public transportation in Jerusalem during an extraordinary cabinet meeting on Tuesday afternoon, convened by Prime Minister Benjamin Netanyahu following a string of deadly terrorist attacks that morning.
Soldiers will be used at first, until sufficient numbers of security guards can be trained.
It is also likely that soldiers from non-combat units such as military police and the Home Front Command will be placed in urban centers in order to boost security.
A curfew on East Jerusalem was another emergency security measure said to be under consideration and it emerged soon after the meeting that temporary checkpoints would likely be placed around the neighborhoods.
Earlier Tuesday, three Israelis were killed in two almost simultaneous attacks in Jerusalem, which injured 20 others. Following the attacks, Route 1 – the main highway between Tel Aviv and Jerusalem – was closed in both directions for half an hour while security activities were carried out.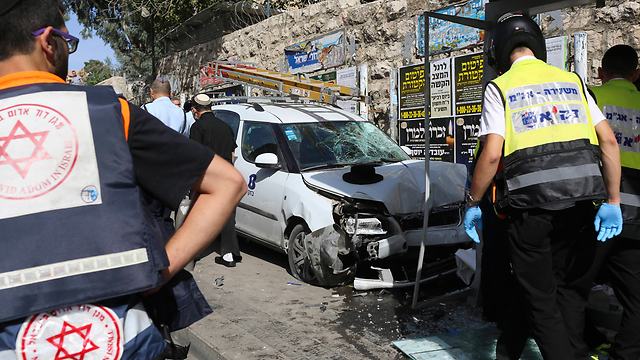 Route 443, another highway between Tel Aviv and Jerusalem, was closed off for a brief time as well.
The ease of obtaining firearms licenses was also an issue tabled by Public Security Minister Gilad Erdan during the cabinet meeting.
Yisrael Beytenu head Avigdor Liberman, talking to Ynet on Tuesday, called for a "military government along the '67 borders to be established in East Jerusalem and also around 'the Triangle' if there are further riots."
"No terrorist should come out of an attack alive," said Liberman. "Adopt the American rules of engagement and revoke the status of any East Jerusalem resident involved in terror," he continued.
"Emergency regulations and military rule should be instituted," he added.
Liberman also proposed a curfew on East Jerusalem and further called for, if necessary, "military rule over some of the villages along the '67 lines.
"Both Ramallah and Gaza are behind the incitement appearing through Palestinian media and social media," Liberman added.
Jerusalem Mayor Nir Barkat, speaking at the scene of Tuesday morning's attacks, also called for a curfew on East Jerusalem.
"You will soon hear about drastic measures that have not been seen until now," Barkat declared. "They will be coordinated with the Shin Bet and the police," he added.
"While calling on the government and security forces to sharpen its measures, we also call on residents not to take the law into their own hands," Barkat continued.
"Security forces must be allowed to carry out their functions," he said.
As reported by Ynetnews