General Joseph Dunford expected to hold discussions on regional security and an expanded US aid package to Israel.
General Joseph Dunford, chairman of the US Joint Chiefs of Staff, will visit Israel next week for the first time and will likely discuss security cooperation, Yedioth Ahronoth revealed on Tuesday.
The visit was scheduled against the backdrop of the ongoing conflict in Syria and Russia's entry into the fray, as well as the Iran nuclear agreement.
Dunford replaced the outgoing chairman of the Joint Chiefs, Martin Dempsey, around a month ago. Visiting Israel so early on in his position was a deliberate choice.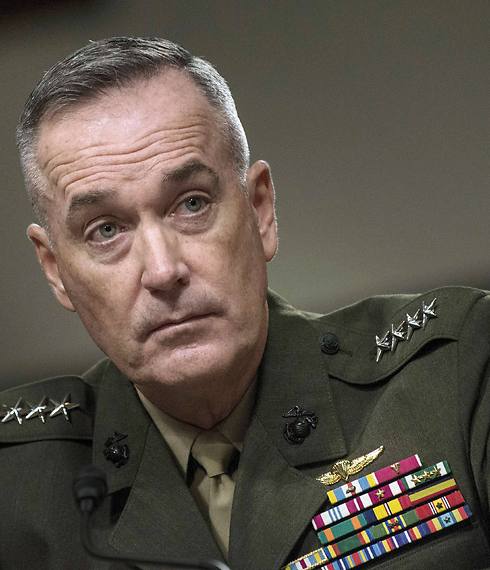 One of the goals of Dunford's visit will be to discuss strategy and security cooperation between Israel and the US, which has come under the shadow of ongoing political tensions.
Two practical concerns are likely to be at the heart of discussions. The first revolves around formulating policy in light of Russia's entry into the Syrian conflict and its support for President Bashar Assad, a move that has dramatically affected the IDF's freedom to operate in this theater.
In spite of meetings between the IDF Deputy Chief of Staff Yair Golan and his Russian counterpart, Nikolai Bogdanovski, it is clear that Hezbollah currently has free rein to bring in advanced weapons from Syria and that the IDF is expected to refrain from attacking the convoys.
Additionally, the Russians are reinforcing the Iran-Syria axis, which is likely to become a problem for Israel.
The second issue, and perhaps the more critical one, is the formulation of an American aid package to Israel that is expected to include additional funds of $1.3 million. Israel requested to uphold the principle of military superiority over the Arab states, which is currently being worn away by the Gulf states.
This part of the aid package would include significant strengthening of the Israel Air Force with additional F-35 jets, on top of what the US has already committed to provide. Other additional elements would include supplementary funding for developing protective systems and precision weaponry.
The additional equipment is intended to ensure that Israel can manage simultaneous wars on two fronts – south and north – if needed.
If the US agrees to expand its aid package – or alternatively to provide oil grants – it is expected to demand assurances from Netanyahu that Israel will not conduct military activities without American knowledge.
As reported by Ynetnews