Ankara, Turkey – Thousands of people gathered in the streets of Ankara on Sunday near the site of two deadly bomb blasts that tore through crowds taking part in a peace rally in the capital a day earlier.
The attack — for which no group has so far claimed responsibility — killed at least 97 people, wounded nearly 250 others and threatened to deepen divisions and distrust in Turkey's polarized society.
"This was supposed to be a peace rally. This was supposed to be about bringing Turkey together to show unity amongst the Turks and the Kurds and the other ethnic groups. This attack very much has now ripped that apart," said Sajjan Gohel, the international security director at the Asia-Pacific Foundation in London.
Two suicide bombers are believed to have caused the blasts near the city's main train station, Turkish Prime Minister Ahmet Davutoglu said in a televised address to the nation.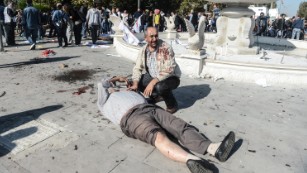 The atrocity is the deadliest single terrorist attack on Turkish soil and has happened at a politically sensitive time, just three weeks before national elections.
The huge blasts shook high-rise office buildings and left bodies protest banners and flags scattered across the ground.
"This is an attack that does not target a specific group; it is an attack on the entire nation and (an) attack on our unity. Turkey is a country that has managed to maintain peace in the region," Davutoglu said.
Scuffles with police near scene of bombings
On Sunday, people once again massed in Ankara's streets, this time expressing solidarity with the victims. Other demonstrations were also expected elsewhere across the country, which has declared three days of mourning over the attacks.