Thirty-five years after immigrating to Israel, Elvira Billman still prepares the traditional dishes that were served at her parents' home in Istanbul. Here are a few recipes for simple and elegant starters you'll definitely want to try at home.
Elvira Billman and her family left Istanbul and arrived at the central Israeli city of Rishon Lezion in 1980. "Honestly, we just wanted the children to grow up here. We had a good life there, I'm not saying we didn't, but it was important for us that our children would grow up among Jews," she says.
Thirty-five years have passed, and Elvira still prepares the dishes which were served in her home and in her parents' home in Turkey, with a lot of talent and expert hands. Every Friday, she serves çiğ köfte fingers, chicken breast salad and small pastries – borekitas with the scent of mahlep, a ground cherry stone added to the dough (see recipes bellow) – to the joy of her family members, including her son-in-law, Ynet photographer Dudu Azoulay, who took the following pictures.
"Today you can already get everything here – yufka (Turkish flatbread), spices, Turkish beans and more. The only thing that is hard to get is dry mint like they have in Turkey. We get that from relatives who come to visit," she says, laughing.
On an autumn afternoon, Elvira prepared five easy and elegant Turkish appetizers, which your dinner table would love to host. Try them and you won't be disappointed.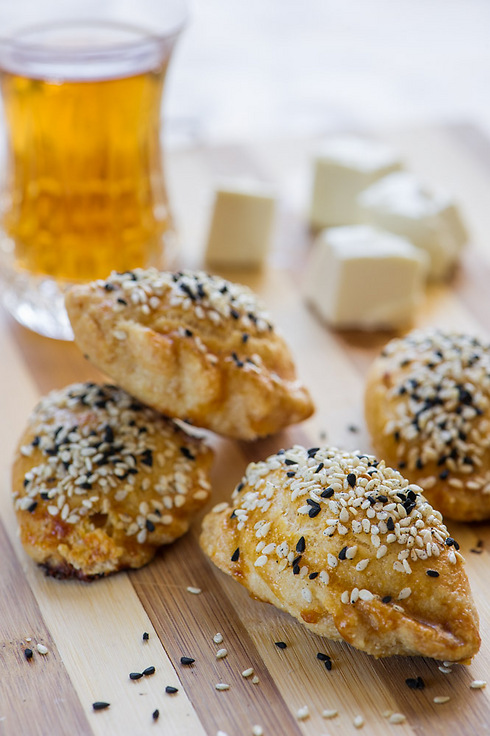 1. Mahlepli Borekitas
Mahlep, mahlab in Arabic, is a strong spice created by grinding the heart of sour Vishnia cherry stones. Turkey's Jews use it to season pastries, and it adds a sharp, aromatic smell one cannot miss.
Ingredients:
For the dough:
3.5 cups of semolina
4 cups of flour
2 cups of oil
2.5 teaspoon of baking powder
1 cup of lukewarm water
1 flat teaspoon of mahlep (ground cherry seeds) – can be found in spice shops
1 flat tablespoon of sugar
Season with a bit of salt to taste
For the stuffing:
2 peeled medium-sized potatoes, cooked till soft and mashed
300 grams of Bulgarian cheese (sirene)
200 grams of grated Yellow cheese – Emmental or Gruyère
1 egg
For brushing:
1 egg yolk
Nigella and sesame mixed together
Directions:
1. Prepare the dough: Put all ingredients in a bowl and knead into a dough. Cover the bowl and let the dough rest for 20-15 minutes.
2. Prepare the stuffing: Mix all the ingredients.
3. Roll out the dough until it is about 0.5 centimeter thin and create circles with a cup. Place a tablespoon of stuffing in each circle and seal the ends with your fingers. Tighten the edges.
4. Arrange the pastries in a baking dish lined with baking paper and brush with egg yolk. Scatter a mixture of nigella and sesame seeds on top and bake in an oven preheated at 160°C (320°F) for 25 to 30 minutes until the pastries turn golden.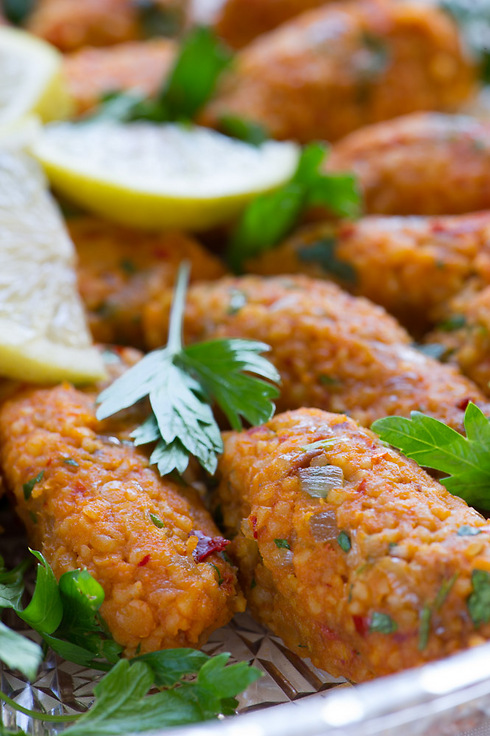 2. Çiğ köfte – vegetarian lentil pate
Ingredients for 30 fingers:
1.5 cups of red lentils
2 cups of thin burghul wheat
2 finely chopped onions fried until translucent
1/2 a cup of parsley
5 stalks of scallion
2-3 tablespoons of pomegranate concentrate
1/2 a teaspoon of cumin
2 tablespoons of tomato paste
Directions:
1. Bring the lentils to boil with 3 cups of water for 15 minutes. Add burghul. Turn off the heat and mix for 15 minutes till the burghul is soft. Let it chill in room temperature for an hour.
2. Add the rest of the ingredients and mix well.
3. Create 5-7-centimeter-long flattened fingers. Serve lukewarm or cold, with or without yogurt dressing.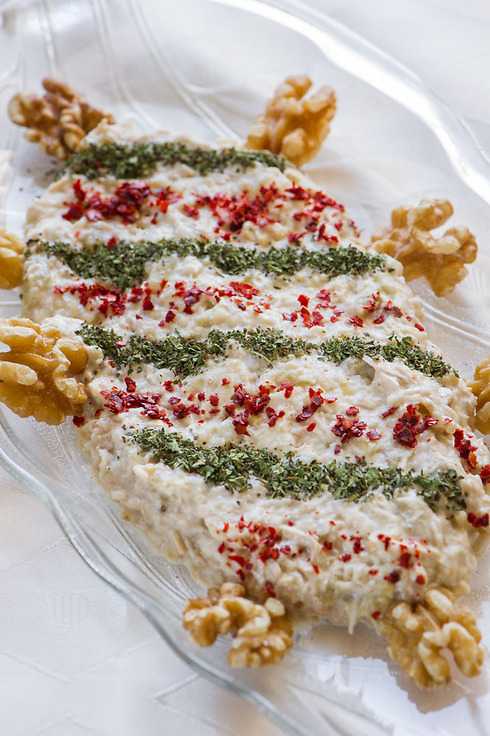 3. Çerkez Tavuk – chicken salad with walnuts
Billman's interpretation of the traditional Turkish dish.
Ingredients:
1 whole chicken breast (about 400 grams)
2 roasted eggplants, finely chopped
2 ground garlic cloves
3 tablespoons of mayonnaise
70 grams of chopped walnuts
Directions:
1. Roast the chicken breast well. Break it by hand into pieces and finely chop them.
2. Mix with the rest of the ingredients and cool in the fridge for about half an hour. Garnish with paprika and dried mint and serve with bread.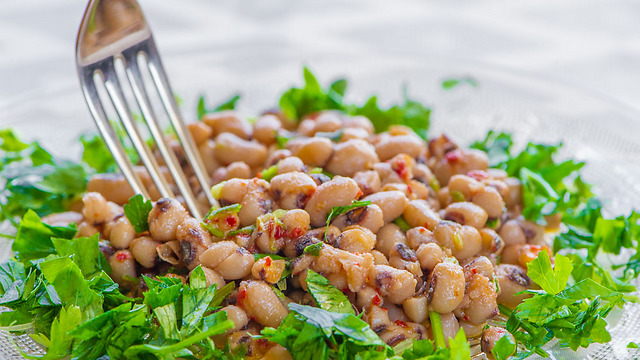 4. Dried black-eyed pea salad
Note: The peas should only be salted before serving, not while cooking.
Ingredients:
1 cup of dried black-eyed peas, washed and drained – no need to soak
Juice from half a lemon or a whole lemon
3 tablespoons of sunflower or corn oil
1 tablespoon of hot paprika
4 stalks of scallion, finely chopped
1 teaspoon of parsley
Directions:
1. Heat the peas in a pot and cover with water. Bring to boil and cook for about 15 minutes or until the peas are soft but still firm to bite. Drain.
2. Move into a bowl and add the rest of the ingredients. Mix well and salt. Serve warm or lukewarm.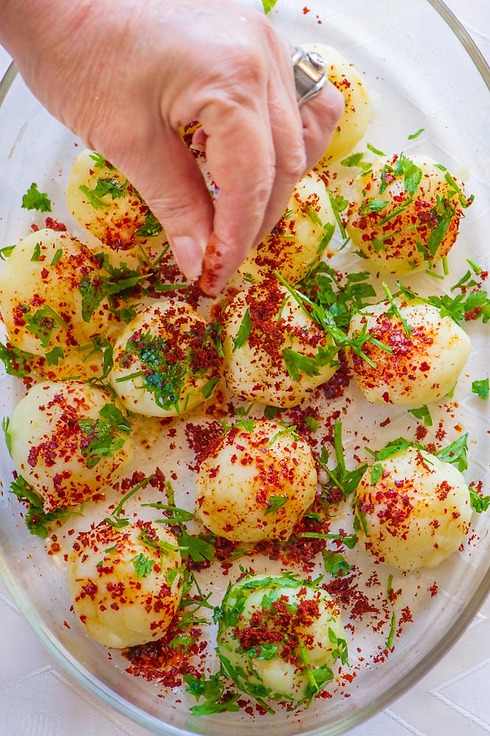 5. Potato balls
Ingredients:
3 potatoes cooked in their peel until soft
1 teaspoon of lemon juice
2 tablespoons of oil
Salt
To serve:
Parsley, finely chopped
Dill, finely chopped
Smoked paprika
Directions:
1. Peel the potatoes and mash them with a fork while still warm.
2. Add oil and lemon juice and create little balls with wet hands. Garnish with smokes paprika, parsley and dill. Serve lukewarm or cold.
As reported by Ynetnews