Netanyahu authorizes publication of Alsheich's name on Sunday under Shin Bet law, as he is still the acting deputy head of the secretive internal security agency.
Roni Alsheich (52), from Givat Shmuel, a father to seven children, and grandfather to another seven, who currently serves as Deputy Head of the Shin Bet – is set to become Israel's newest Police Chief.
Alsheich is thought to be a foremost expert on counter-terrorism, and was responsible for many extremely sensitive Shin Bet operations.
Prime Minister Benjamin Netanyahu authorized media outlets to publish Alsheich's name and pictures on Sunday, before he undergoes a tricky confirmation process. The Turkel commission, which examines possible candidates, is set to meet on Thursday as a result of the appointment.
In addition to Alsheich, Public Security Minister Gilad Erdan, former Police Commissioner Yohanan Danino, and head of the Shin Bet Yoram Cohen are all set to appear before the committee as well.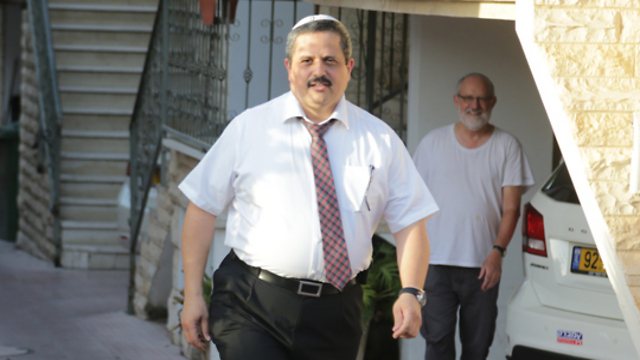 His wife, Shira, told ynet that, "We are all very excited and in awe of the task ahead, we are taking it in. My husband is a family man in everything he does. We are normal and typical people. His success is our success."
One of his nicknames within the agency is "Bar Mitzvah" – due to the kippah on his head, and what has been deemed his "good little boy look." His other nickname within the agency is "the fox," due to his sneaky image. "The man is one of the best, he is very serious," sources within the agency told ynet.
Alsheich has served as deputy head of the organization since September 2014, and as such has served as the place holder for the organization's chief when he is unavailable. This entailed sitting in on national security meetings and cabinet briefings, and as such he is no stranger to the Prime Minister's office or the Security Cabinet. "Alsheich filled the Shin Bet head's spot on several occasions, including government meetings, Knesset Security and Foreign Affairs committee meetings, and Cabinet meetings," a former official said.
Some would claim that he is responsible for the decrease in Jerusalem terror incidents between the years 2005-2008, during which he served as head of the agency's Judea and Samaria division chief, and was said to have deterred terrorist actors.
Ya'alon reacted to the appointment on a Sunday Army Radio show, saying, "I've known him since he was a platoon commander in my battalion, the 890th battalion of the paratroopers. He is a great man, and the right man for the job, I hope he is confirmed." Ya'alon continued to say that Alshiech's hand was broken when a rock was thrown at him during an operation in Lebanon, and wished him luck.
Alsheich joined the Shin Bet in 1988, and began his way as an interrogator, and was known to be able to "break" his detainees using finesse, and without having to use physical violence. Sources in the Agency say that if he hadn't been appointed Police Chief, he most likely would have gone on to lead the Agency.
Netanyahu and Erdan have tasked Alsheich with four difficult but crucial tasks: Rehabilitating the organization, improving the police command structure and image, fighting the terrorist uptick in Jerusalem, and strengthening policing capabilities in the Arab sector while generally improving the service provided to citizens.
As reported by Ynetnews