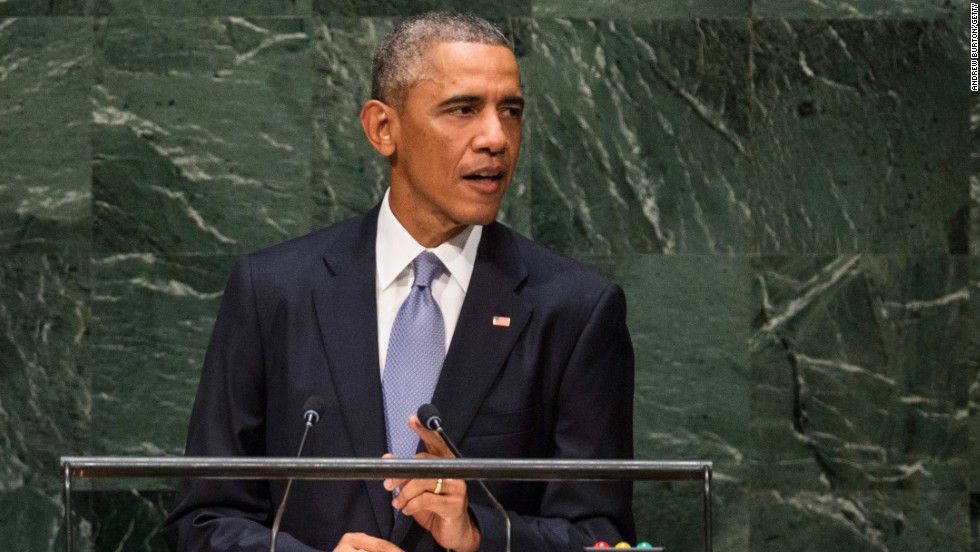 New York – With progress fighting ISIS moving slowly, and Russian fighters entrenched in Eastern Ukraine, President Barack Obama returns to the United Nations General Assembly this week anxious to shore up international support for U.S. plans to counter various global crises.
Diplomatic wins — including the Iran nuclear deal and a thaw in U.S.-Cuba ties— have given Obama a boost. But a year after he announced his plan for airstrikes to combat Islamic State terrorists, the President will face pressure to explain the next steps in the unraveling situation in Syria.
In remarks Sunday afternoon, he demanded strongmen like Syrian President Bashar al Assad provide stable governments for their citizens, warning that corruption will lead to events like the crush of Syrian refugees fleeing their country's civil war.
"I profoundly believe many of the conflicts, the refugee crises, the military interventions over the years, may have been avoided if nations had truly invested in the lives of their people, and if the wealthiest nations on earth were better partners in working with those trying to lift themselves up," he said during remarks on global development.
On Monday, Obama will deliver his annual address to the gathering of world leaders, which brings gridlocked traffic and various global pariahs to the east side of Manhattan yearly.
Aides say his U.N. speech will center on a defense of diplomacy, and its ability to achieve peaceful solutions to global problems like Iran's nuclear program.
But in his remarks on Sunday, Obama has previewed a more pointed tone than in years past.
"It's my seventh year of addressing the general assembly, and I tend to be more blunt," he said at the development event. "Along with the grey hair, I'm becoming more likely to speak my mind. So indulge me when I say we will never achieve our goals unless we confront several insidious threats to the dignity and well-being of people around the world."
Two of those threats will provide the agenda for Obama's most anticipated meeting of his three-day U.N. visit: Monday evening talks with Russian President Vladimir Putin, the first time the pair have engaged in substantive face-to-face discussion since Russia annexed part of Ukraine in 2014.
Obama's aides say the situation in Ukraine is at the top of the agenda, though the Kremlin indicated last week the situation there would only arise if there's time.
"There will be time," asserted White House Press Secretary Josh Earnest last week.
Aside from Ukraine, the White House says Obama will seek to gain clarity on the motivations behind Russia's recent military build-up in Syria, which U.S. officials have said is unclear.
Obama weighed for weeks whether to meet with Putin, who is attending the U.N. General Assembly for the first time in years. Ultimately, he determined "it would be irresponsible to not have a face-to-face encounter and to not directly address with President Putin our positions and concerns on these two issues," according to Deputy National Security Adviser Ben Rhodes.
On Tuesday, Obama will meet with Cuban President Raul Castro to discuss their two countries' renewed diplomatic ties. With relations formally reinstated, the pair want to begin developing economic plans, including an agreement to allow commercial flights to travel between the U.S. and Cuba.
The President will end his U.N. stay convening a summit meant to solidify support for the campaign against ISIS, which continues to control large swaths of Iraq and Syria. Last year, Obama came to the U.N. having just announced a strategy to "degrade and destroy" the terrorists.
This time around, officials say Obama is looking to focus on the various elements that led young people to the group, which has attracted foreign fighters from the region and Europe.
"The counter-ISIL campaign is going to be measured in years. But what we do have is a significant coalition of countries that are seized with this threat and that are enhancing their capabilities, and that are joining with us in this effort," Rhodes said, noting that Iraq's Prime Minister Haider al-Abadi would join the session.