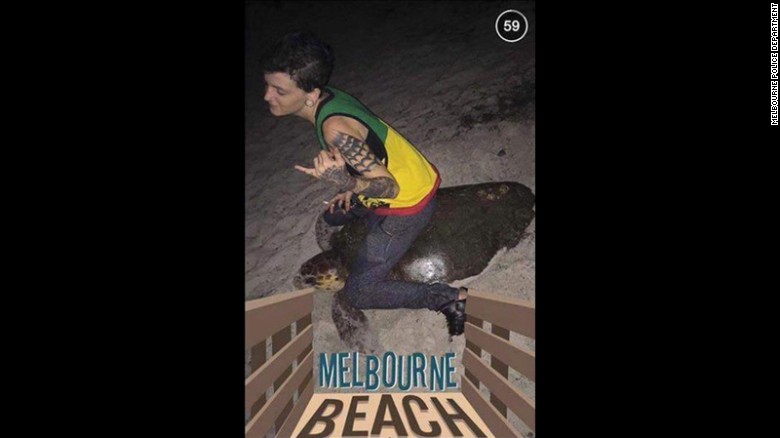 A 20-year-old Florida woman was arrested Saturday months after photos in which she appeared to be "sitting or riding" on the back of a sea turtle went viral on social media, authorities said.
Stephanie Marie Moore had been wanted on a felony warrant since July for the "possession, disturbance, mutilation, destruction, selling, transference, molestation, and harassment of marine turtles, nests or eggs."
The photos taken on Melbourne Beach "flooded social media networks," said Sgt. Brian Hart of Melbourne police.
Melbourne is part of a 20-mile stretch of beach along Florida's east-central coast that "is home to the most important sea turtle nesting habitat in the United States," according to the Florida-based Sea Turtle Conservancy.
An estimated 90% of the creatures in the United States call that area home, which is why civic leaders go to great lengths to both protect sea turtles and to educate humans about them.
"People can live and play on important sea turtle nesting beaches without significantly affecting nesting success," it says on the conservancy's website. "But it requires a well informed public that is committed to behaving in a manner that doesn't harm nesting turtles or their nests."
Perhaps that is why the Snapchat photos were received so poorly and caused such an outrage, and why Hart said that "eventually, multiple complaints (about the photos) were forwarded to the Florida Fish and Wildlife Conservation Commission."
Moore and and another woman took the pictures, police said. That person has not been identified.
Moore was being held on a $2,000 bond in the Brevard County Jail.
It was not clear Saturday whether she had retained a defense attorney, and multiple messages left for family members were not returned.
As reported by CNN