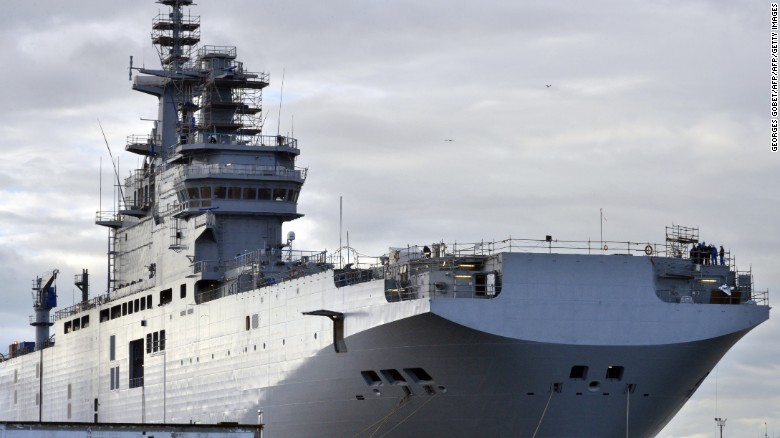 France has agreed to sell Egypt two Mistral-class helicopter carriers that were previously contracted to go to Russia, the Elysee Palace announced Wednesday.
The previous $1.3 billion contract with Moscow was signed in 2011 by the French government under Nicolas Sarkozy's presidency, but was suspended last year in the midst of violent unrest in eastern Ukraine.
The warships are powerful amphibious assault vessels equipped with six helicopter landing zones. Each of them can carry up to 16 heavy helicopters, along with tanks and about 500 troops.
A source close to French Minister of Defense Jean-Yves Le Drian said that the two warships were to be sold to Egypt for 950 million euros ($1.06 billion) and delivered around March 2016.
The sale amount included the costs of training of 400 Egyptian naval crewmen in the Saint-Nazaire shipyards in France, the source said.
Negotiations began on August 6. French President Francois Hollande and Egyptian President Abdel Fattah el-Sisi on Tuesday reached an agreement that will be signed in the coming days, the source said.
Other countries, including Canada, were interested into buying the two vessels, according to the source.
'Mutually beneficial'
The deal is mutually beneficial to France and Egypt, according to British naval historian Andrew Lambert.
By dealing Russia a "slap on the wrist," France had been left with two helicopter carriers it didn't need, said Lambert, who is professor of naval history at King's College London's War Studies Department. "The French are very keen to offload these assets which they've had to re-compensate the Russians for."
Meantime, Egypt benefited diplomatically.
"Egypt is very keen to have some friends in the West — not just Americans but in Europe too — and their international standing has been declining markedly," Lambert said. "I see this not as Egypt having a pressing need for helicopter carriers but as Egypt having a pressing need for friends who are prepared to sell them weapons they need."
Militarily, Lambert said the warships might be useful in dealing with the unrest in Egypt's Sinai Peninsula. "Having a secure offshore base for operations against the Islamists would be very attractive," he said.
The first of the two carriers originally due to be delivered to Russia completed sea trials in the summer of 2014, when 400 Russian troops were sent to France to train on it in the northwestern port of Saint-Nazaire.
However, developments in Ukraine saw questions raised over the deal.
.@fhollande et le président Sissi se sont accordés sur les modalités de l'acquisition par l'#Egypte des deux Mistral pic.twitter.com/8Mhb4unt4r

— Élysée (@Elysee) September 23, 2015
The United States and others accused Moscow of supporting separatist rebels in eastern Ukraine and believe that Malaysia Airlines Flight 17 was downed by rebels using a Russia-supplied Buk missile system. Russia has denied the allegations.
In July 2014, the West imposed stringent sanctions on Russia, which included a ban on future arms imports and exports. While existing contracts, including the Mistral deal, were allowed to go ahead under the sanctions, French President Francois Hollande eventually announced it had been suspended.
At a NATO summit in Wales in early September 2014, Hollande said that it would not be possible to deliver the warships while there was evidence that Russia's military could be involved in Ukraine, or could have given support to the separatist rebels there.
He stressed that France had not been forced to suspend the contract and said he had set two conditions for the delivery of the ships — the first being that there was an effective ceasefire and the second that the crisis was resolved through political agreement.
Later that September, Hollande told reporters he was still hopeful that the deal could go through — if conditions of peace were achieved.
Last month, however, Paris announced that the deal had been canceled.
The Elysee Palace issued a statement saying that Presidents Hollande and Putin had held talks confirming that the deal would be terminated. The French administration said that any advance payment by Russia would be fully reimbursed and Russian equipment on the warships would be returned to Russia.
Opening Ambassador's Week in Paris on August 25, Hollande referred to the Ukraine crisis, which he said had left relations "frozen" between Russia and Europe.
"In September 2014, I suspended the delivery of the first Mistral battleship to Russia, due to the conflictual situation," Holland said. "A year later, France clearly could not deliver a force-projection instrument to Russia in the current context.
The issue was addressed with a strong sense of responsibility from both sides and with mutual respect. I discussed this with President Putin on several occasions," he said.
As reported by CNN