Washington – Congressional Republicans hope Pope Francis leaves his liberal-leaning views at the Vatican.
When he addresses a joint session of Congress Thursday during an event that will be broadcast around the world, a large number of House and Senate Republicans want the leader of the Catholic Church to keep a lid on his progressive attitudes on climate change, immigration, guns and capitalism.
In interviews with CNN, a wide array of GOP lawmakers argued that the Pope's message should stay away from the political fights consuming Washington, and many expressed strong disapproval of the fiery views he's espoused since taking over the papacy in 2013.
"I think it's totally inappropriate that the Pope is weighing in on all the real sensitive, far-left issues," said Oklahoma Republican James Inhofe, one of the most conservative senators. "I'm not a Catholic, but my Catholic friends in Oklahoma are not real pleased with it."
Rep. Paul Gosar, a Catholic Republican from Arizona, plans to boycott the event.
"I don't need to be lectured by the Pope about climate change," Gosar said in an interview off the House floor. "When he wants to take a political position, I will tell you: He is free and clear to be criticized like the rest of us."
The comments demonstrate how the Pope's visit is creating an awkward moment for Republicans in Washington. While Christian conservatives have long made up an influential segment of their base, and there are areas of agreement between the GOP and the Vatican, the Pope has showcased more progressive stances during his time leading one of the world's largest religions.
When he comes to the Capitol this week, his highly anticipated address will be viewed by millions of Americans, and thousands of tourists are pouring into Washington for a chance to catch a glimpse of the pontiff. House Speaker John Boehner and Minority Leader Nancy Pelosi, both Catholics, extended the speaking invitation to Francis, who will become the first pontiff ever to address a joint session of Congress.
The huge platform gives Pope Francis a major opportunity to help drive the national conversation. What's more, nearly six in 10 Americans have a favorable view of Francis, according to a recent Gallup poll, making him far more popular than President Barack Obama and leaders of Congress.
How aggressive Francis will be in advocating his views to a conservative Congress is an open question. But he has not been afraid to touch on thorny subjects over the last several years, drawing global attention for his stances.
In a highly controversial paper released by the Vatican this summer, Francis backed the "very consistent scientific consensus" that climate change is caused by humans, saying it was "urgent" to develop policies to bolster the environment and curtail fossil fuels.
In comments in July, Francis focused on the plight of migrant children, saying governments must move to "protect and assist them," in line with his repeated statements for a compassionate approach to immigration.
He has also spoken more tolerantly about gays than previous pontiffs, saying famously, "Who am I to judge?" — a sharp contrast with his predecessor Pope Benedict XVI's hardline on homosexuality.
Francis has blasted gun manufacturers, likening them to hypocrites. And in a series of tough speeches, Francis has railed against global capitalism, even calling it a "subtle dictatorship."
Such comments make many Republicans cringe.
"I'm always concerned about those who are bringing spiritual messages that step too far over the line in terms of political issues," said Sen. Dan Coats, an Indiana Republican and Presbyterian. "I think it can be dangerous territory because then it gives people reason to make a judgment on say, Billy Graham or the Pope or whoever, on the basis of their political leanings — not on the basis of their spirituality."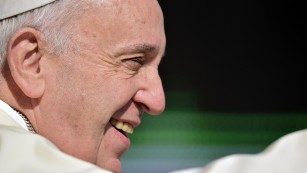 And Republican presidential candidate Chris Christie, a Catholic, didn't hold back Sunday from criticizing Pope Francis on his stance on a political issue — his advocacy of closer ties between the United States and Cuba.
"I just think the Pope is wrong," the New Jersey governor told CNN's Jake Tapper on "State of the Union." "The fact is that his infallibility is on religious matters, not on political ones."
Still, the Pope also espouses social views that are in line with the GOP, chief among them opposition to abortion.
With his huge perch this week, some Republicans hope that Francis will reiterate the church's objections to the procedure — an issue that is now paralyzing progress on a funding bill on Capitol Hill — though that could spark protests from congressional Democrats.
"I think he will solidly be on the side of those of us who want to restrict tax dollars going to Planned Parenthood," said John Cornyn of Texas, the No. 2 Senate Republican.
"I have no thought that the Pope is going to be weak on the issue of protecting the unborn," said Rep. Trent Franks, an Arizona Republican.
Some Catholic Republicans said they plan to soak in the historic visit, praising the Pope for injecting new energy into the church and pushing for a new era of inclusiveness — even if they sharply disagree with some of his views.
"I would trust him to do his best to say what's on his mind," said Sen. Mike Rounds, a former GOP South Dakota governor and a Roman Catholic. "We'll thank him for what he brings to the table and at the same time, we'll glean from him what we think will be helpful."
But Rounds pointedly disagreed with the Pope's views on capitalism.
"Personally, I think if you think of the quality of life that has been delivered to millions of people around the world and freedoms that we find for people around the world, most of it has happened because of innovation due to capitalism, and because the United States of America exists," Rounds said.
Sen. Thom Tillis, a Catholic Republican from North Carolina, said the Pope is well within his rights to lay out his goals and views.
"The Pope is the leader of my church," Tillis said. "He is doing what popes have done for hundreds of years — that does not bother me."
But, Tillis said, the final call on how to achieve those objectives is up to lawmakers — not the church.
Other Catholic Republicans, however, were more reticent when asked about the Pope's views.
"I'm going to do the right thing and not comment on this," said Idaho Sen. Jim Risch. "I'm a conservative Catholic, and I have been all my life."
In recent years, the House chamber has hosted its share of high-profile, tense speeches. Earlier this year, Israeli Prime Minister Benjamin Netanyahu addressed a joint session of Congress to protest the nuclear talks with Iran, prompting sharp condemnation from the White House and liberal Democrats. In 2009, South Carolina Republican Rep. Joe Wilson yelled "You lie!" during Obama's speech to Congress about health care. And every year, the President delivers a mostly partisan State of the Union address to the rowdy body.
Yet Francis's speech is expected to be far more prominent than all of those, with Boehner calling it "one of the biggest events in the history of the Capitol."
In anticipation of the much-publicized address, Boehner and other congressional leaders sent an unusual letter last week to lawmakers asking them to assist with the flow of the event by "refraining" from "lengthy" handshakes with the Pope and to avoid holding side conversations with him in order to let him progress with his schedule.
Missouri Republican Sen. Roy Blunt, a member of the GOP leadership, said he hopes the Pope "casts a fairly wide net, talking about things like religious freedom and the issues that affect families."
But Blunt added, "I don't think we have much control over what he says."
Inhofe, however, thinks the Pope should restrain himself. On the issue of enacting policies to curb global warming, Inhofe, a climate skeptic who chairs the Senate Environment and Public Works Committee, said: "That's not something that I think the Pope ought to be talking about."
He added, "I have never experienced a time when a Pope would jump on (so many) very extreme issues."
As reported by CNN