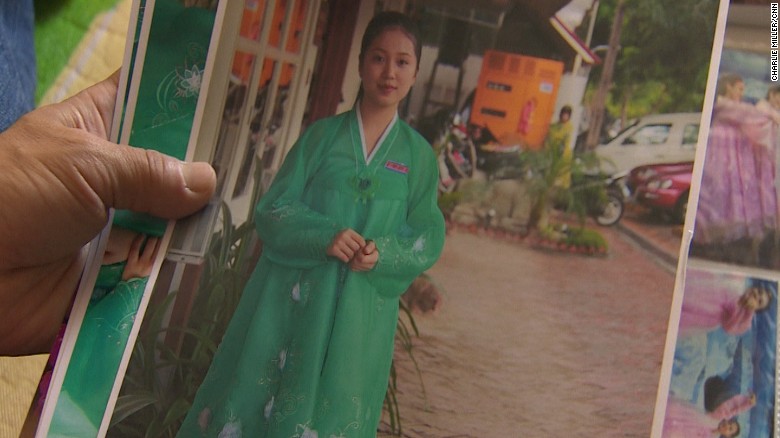 Pyongyang, North Korea – Four years ago, Mun Su Gyong's parents in Pyongyang received a letter from their daughter, colorfully decorated with pink hearts, embellished with cut-out photographs of her. Because the majority of the country doesn't have Internet access, North Koreans still mostly communicate the old-fashioned way, in pen and ink.
The letter is now one of their most precious possessions — a keepsake in the way that an email never could be. It was the last they ever heard from their daughter.
In the letter, Mun, who was 20 at the time, told her parents she would be coming home soon. Three years before, they had been proud to hear that their daughter had been selected to work overseas in a North Korean state-owned restaurant in Phnom Penh, Cambodia.
Restaurants like these are important foreign currency earners for North Korea, which is cut off in so many ways from the international economy by harsh sanctions imposed on it due to its nuclear weapons program. The waitresses who work in these establishments are chosen for their beauty and their singing and dancing skills, but most importantly for their loyalty.
Weeks after writing that letter to her parents, saying she would be coming home in a matter of weeks and asking them to make preparations for her to attend university, Mun Su Gyong disappeared.
Co-workers, North Koreans, say regular customers who had befriended Mun abducted her.
The former manager of the restaurant, since closed, believes the men were South Korean spies who frequented the restaurant for two years posing as North Korean businessmen.
Witnesses provided to CNN by the North Korean government say the men forced Mun into a car and drove her away.
But a South Korean government official has called the claims "completely groundless."
Whatever the circumstances of her disappearance, Mun's family was devastated.
CNN visited them in their Pyongyang apartment, where they keep her room like a shrine, with her belongings untouched. She had sent her favorite Snoopy stuffed toy home to her brother in advance of her return. "Every day I come home from work, I go to her room to see if anything has changed, if she has come home," her mother, Kim Sun Jong, tells us.
Kim Sun Jong, an artist, and her husband, Mun Sung Jin, a police officer, waver between floods of tears and fond smiles as they show us the many photos in their albums. They coo over pictures of their daughter as a child growing up. Memories most would share on Facebook today are still kept in photo albums in North Korea.
They were so proud when she was selected to work overseas, they say, even though that meant three or four years away from home, without home leave. Only the most trusted youth are sent to work abroad, they tell us. Even abroad, North Koreans live according to the communal, socialist values of their society. Their housing is provided by the state. They live, work and study together.
Her parents say Mun was a loyal socialist with a "clean heart." She even took time to dust off a street sign in Phnom Penh named after Kim Il Sung, the founder of North Korea who still holds the title "eternal president" more than two decades after his death."
She sent home pictures of herself, often entertaining restaurant customers with song and dance. She wore smart modern suits and traditional Korean dresses. She posed with the other young women she worked with.
Her parents say she was loyal and devoted to her country, her family and her leader. The only thing that would keep her from returning to her homeland, they say, is abduction or deception.
Tens of thousands of North Koreans have made the risky journey to South Korea since the 1990s. Defectors in the South often say they are fleeing repression and poverty. The North Korean government says they are criminals, seeking to escape their past, or victims of human traffickers, duped into defecting and then forced to lie about the North in order to survive.
Mun's father says it never crosses his mind that she could have gone willingly. But whatever the truth of the matter, it torments her family. "The pain has never diminished," he says. "It has only increased in the past four years."
Her mother, Kim Sun Jong, looks into the camera and appeals directly to her daughter. "I will wait for you until the end of my life. I strongly believe you were deceived into going there. I trust you."
As reported by CNN