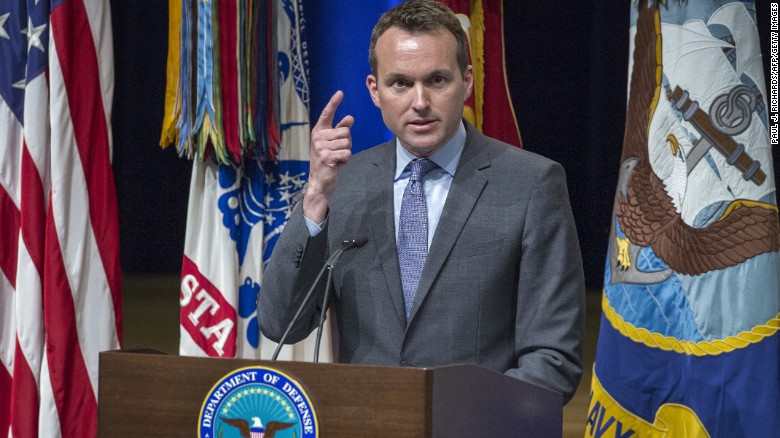 Washington – President Barack Obama on Friday nominated Eric K. Fanning to be secretary of the Army, which could make him the first openly gay secretary of a U.S. military branch.
The U.S. Senate must confirm Fanning before he can lead the Army.
"Eric brings many years of proven experience and exceptional leadership to this new role," the President said in a statement. "I am grateful for his commitment to our men and women in uniform, and I am confident he will help lead America's Soldiers with distinction."
This historic move is one of many steps the Obama administration has taken to advance the rights of the LGBT community in the armed forces. In 2010, the President signed a law ending the "Don't Ask, Don't Tell" policy that prohibited gays and lesbians from serving openly in the military, and earlier this year, the President moved to allow those who identify as transgender to openly serve as well.
Fanning has served as acting under secretary of the Army since June, and before that, served as chief of staff to Secretary of Defense Ash Carter. Fanning also served as under secretary of the Air Force and deputy undersecretary of the Navy.
In a statement, Carter called Fanning an "excellent choice" to lead the Army.
"Eric served as my first chief of staff at the Pentagon, and it has been a privilege over the course of my career to work alongside him and watch him develop into one of our country's most knowledgeable, dedicated, and experienced public servants," Carter said. "I know he will strengthen our Army, build on its best traditions, and prepare our ground forces to confront a new generation of challenges."
The American Military Partner Association, a support group for the families of LGBT service members, also praised Obama's decision.
"We are thrilled to see Eric Fanning nominated to lead the world's greatest Army," AMPA President Ashley Broadway-Mack said in a statement. "History continues to be written and equality marches forward with the nomination of an openly gay man to serve in this significantly important role. Fanning's expertise and knowledge within the defense community together with his sensitivity to issues faced by LGBT service members and their families is why we urge the Senate to move quickly to confirm his appointment."
As reported by CNN