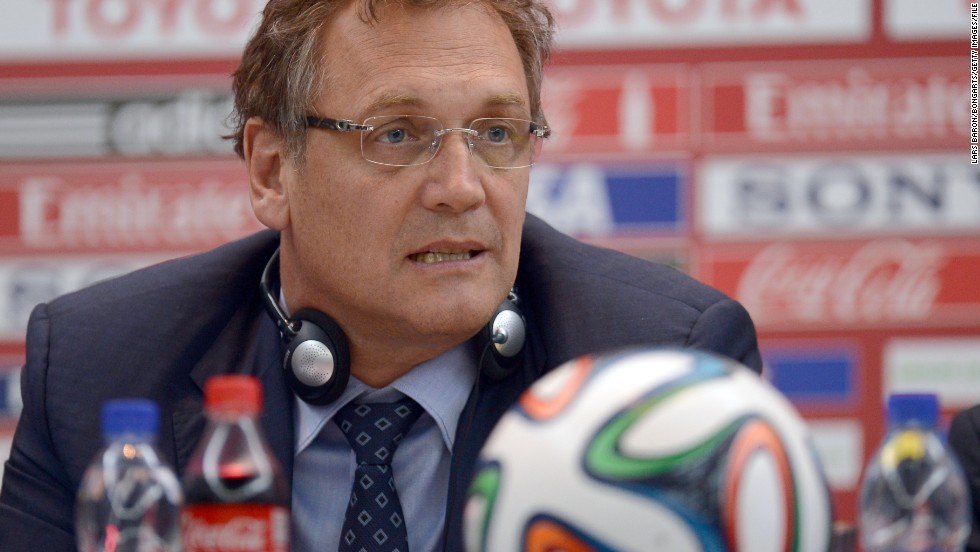 FIFA announced Thursday that Secretary General Jerome Valcke was suspended, effective immediately, while the organization investigates allegations he participated in a scheme to profit off the sale of World Cup tickets on the black market.
Valcke was relieved of his duties until further notice, the international governing body of soccer said.
The organization's brief statement to the media said FIFA's ethics committee will investigate the series of allegations involving Valcke, the No. 2 man in FIFA after President Sepp Blatter.
The claims, reported in several major international newspapers, come from a sports marketing company consultant, Benny Alon, who said that Valcke and FIFA agreed to provide tickets to World Cup matches in 2014 that were sold on the black market for much more than their face value.
"Jerome Valcke unequivocally denies the fabricated and outrageous accusations by Benny Alon of alleged wrongdoing in connection with the sale of World Cup tickets," said attorney Barry Berke. "Mr. Valcke never received or agreed to accept any money or anything else of value from Mr. Alon. As has been reported, FIFA entered into an agreement with Mr. Alon's company, JB Sports Marketing. That agreement and FIFA's subsequent business dealings with Mr. Alon were vetted and approved by FIFA and its legal counsel."
The decision comes as investigations continue into allegations that bribery helped determine the hosts of past and upcoming World Cups.
FIFA has been embroiled in scandal since a grand jury in the United States indicted 14 people, including nine top FIFA officials, on corruption charges in May. Federal prosecutors have alleged that FIFA officials took more than $150 million in bribes to provide "lucrative media and marketing rights" to soccer tournaments.
The U.S. indictment accuses Jack Warner, FIFA's former vice president and a member of parliament in Trinidad and Tobago, of taking a $10 million bribe to vote for South Africa to host the 2010 World Cup. The indictment says South Africa was willing to pay $10 million to the Caribbean Football Union "to support the African diaspora" in exchange for Warner's and two other conspirators' votes to put the 2010 World Cup in South Africa, instead of Morocco. The South African bid committee has denied any impropriety in the payment.
Valcke has strenuously denied any wrongdoing in connection with the $10 million payment.
Swiss investigators are also looking into the controversial 2018 and 2022 World Cup bidding process, which saw Russia and Qatar come out as the victors, respectively.
Valcke, 54, has been FIFA's secretary general since 2007, following three years as the director of marketing and television. His duties include the group's finances and the organization of the World Cup. Valcke, a Frenchman, was expected to leave his post in February when Blatter steps down.
As reported by CNN