Washington – America's top diplomat called his Russian counterpart Wednesday to warn that Moscow's military buildup of troops in Syria could escalate the bloody conflict there that has engulfed the region for more than four years.
The U.S. has been watching Russia's movement of military personnel with concern for several days, though the Foreign Ministry only confirmed the buildup Wednesday.
There are "Russian military experts in Syria who are instructing (the Syrians) on the use of the military systems being delivered" to Syrian President Bashar al-Assad, a close Moscow ally, Russian Foreign Ministry spokeswoman Maria Zakharova said in a statement.
Russia "has long been supplying arms and military equipment to Syria in accordance with bilateral contracts," she said.
That confirmation follows repeated warnings from Secretary of State John Kerry to Russian Foreign Minister Sergei Lavrov about how such activity could intensify the raging civil war there.
In a call to Lavrov Wednesday, Kerry "reiterated our concern about these reports of Russian military activities, or buildup if you will, in Syria and made very clear our view that, if true and borne out, could lead to greater violence and even more instability in Syria," State Department spokesman John Kirby told reporters.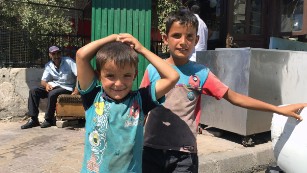 The United States has called for al-Assad to go, but with help from Russia and Iran, al-Assad has been able to hold onto power. Yet both Moscow and Washington oppose ISIS, which has rushed to fill the vacuum caused by the extended civil war.
America, meanwhile, has been offering limited support to moderate Syrian rebels in the fight against ISIS, though they are also trying to push out al-Assad.
U.S. officials are still trying to determine the true intent behind the Russian moves in Syria, but they say the possibilities range from preparations to attack ISIS positions to the more likely scenario of attacking moderate Syrian rebel forces fighting the Syrian military.
Another possibility includes advance efforts to help Russia control what happens inside Syria if and when al-Assad falls.
One official watching the situation closely said the United States will continue to press for more specifics, but that Russia has still "not provided a clear answer" about its intentions in Syria.
U.S. officials said two amphibious ships have unloaded gear at the Syrian port of Tartus, though the exact nature of the cargo is unclear. U.S. satellites have also seen more than 100 Russian naval infantry troops — the equivalent of U.S. Marines — on the ground and dozens of vehicles.
This comes as U.S. satellites also spotted at least three Russian Antonov An-124 "Condor" planes offloading building supplies and air traffic control equipment.
Initially, those planes flew across the Black Sea from Russia and across Bulgaria, Greece and the Mediterranean Sea on their way to Syria. After the Bulgarian and Greek governments denied overflight rights to the Russian planes, the Russians shifted the flight path to cross the Caspian Sea and then across Iran and Iraq on the way into Syria.
Kirby said he was unaware of whether the flights over Iran came up in Kerry's call with Lavrov. However, he said the reports were "disappointing, but not surprising" given Iran's strong support for the al-Assad government.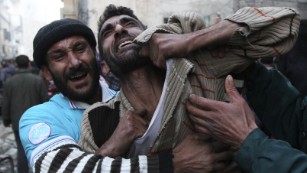 While he declined to comment on any diplomatic conversations with the Iraqi government regarding Russian flights over Iraq, Kirby said the United States has asked its allies in the region "to ask some pretty tough questions of the Russians" about their intentions.
The United States continues to watch Russian airfields and ports to see if any additional material potentially bound for Syria is being loaded up for transport.
Analysts who follow the situation closely say continued Russian military involvement in Syria only increases the possibility for miscalculation, with a variety of actors currently operating inside the country.
"It not only would cause potential conflicts in the sky between (U.S.-led) coalition air forces going after ISIS targets that are in the area, but it would also risk a confrontation between Russian forces and the coalition forces," retired Air Force Col. Cedric Leighton said.
In her statement Wednesday, Zakharova did not rule out additional Russian actions to assist al-Assad's government.
"If there is a need from our side for additional measures to increase support for the anti-terrorist fight, this question will be reviewed in an appropriate way," she said.
As reported by CNN