Tokyo – Heavy flooding over eastern Japan washed away houses and forced residents to their rooftops, desperate for rescue by military helicopters.
The raging brown floodwaters spawned from Tropical Storm Etau, which has dumped 60 centimeters (2 feet) of rain over some areas since Monday.
Combine that with several weeks of near-daily rainfall, and Ibaraki and Tochigi prefectures are now deluged and unrecognizable.
"Tochigi Prefecture is facing a grave danger and is in an emergency situation," Japan Meteorological Agency Spokesman Takuya Deshimaru said. "It is experiencing unprecedented downpour."
Thousands evacuated
More than 170,000 people have been evacuated, officials said. Those who didn't leave found their houses submerged within minutes. The latest evacuation advisory came for the city of Sendai, where more than 200,000 residents in three wards were warned they may need to leave their homes due to rising water.
Members of the Japanese Self Defense Forces dropped from helicopter lines to pluck stranded residents from their roofs. Two by two, they swung precariously over the raging currents as they were pulled back up to the aircraft.
The Self Defense Forces had rescued 101 people by Thursday afternoon, a spokesman said.
Ibaraki prefecture said 70 people out of the 176 there who had called for help had been rescued.
Additionally, local firefighters rescued 20 people, an official from Joso City's Information Office said. Nine people were reported missing in that city, authorities said.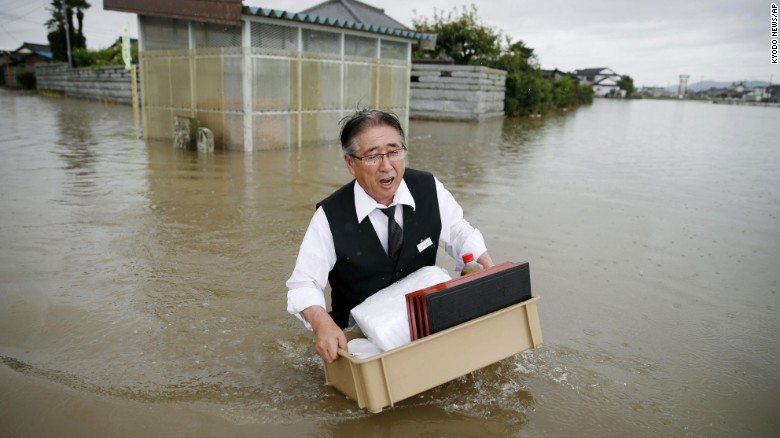 In parts of Tochigi, more than 50 centimeters (1.6 feet) of rain fell in 24 hours, Japanese broadcaster NHK reported. That's about double the amount that typically falls in the region for all of September, it said.
Fukushima prefecture, which was devastated by the 2011 tsunami, saw more than 30 centimeters (1 foot) of rain in 48 hours — the heaviest downpour there in 50 years, NHK said.
And the disaster is far from over. Inundated parts of eastern Japan will get another 5-10 centimeters (2-4 inches) of rain over the next 36 hours, CNN meteorologist Derek Van Dam said Thursday.
The mountains will help induce more rain and will funnel the precipitation — intensifying flooding and causing an even greater risk of mudslides.
As reported by CNN