A fire broke out Tuesday on an outbound British Airways flight at the Las Vegas airport, leading two people to be transported for medical care for what the airport called "minor injuries."
The incident occurred shortly after 4 p.m. (7 p.m. ET) and involved British Airways Flight 2276, which was bound for London's Gatwick Airport, according to the McCarran International Airport's Twitter feed.
The Federal Aviation Administration said the aircraft's left engine caught fire, prompting the crew to abort the takeoff.
The Boeing 777 had 159 passengers and 13 crew members aboard at the time.
Photos at one point showed large plumes of black smoke engulfing the aircraft. That's what Bradley Hampton saw from the plane he was on, about 200 to 300 yards away.
Hampton told CNN that he didn't know whether any passengers were on the British Airways jet — until "all of a sudden, we saw the doors fly open and the slides inflate."
"At that time, we saw droves of people jumping out of a slide and running across the runway away from the plane," he said.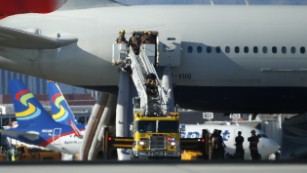 Paul Berberian, who had just landed from Denver, expressed admiration at how quickly everyone moved.
"It was like seconds, it was incredibly efficient," Berberian told CNN's Anderson Cooper. "As soon as the slides popped, five seconds later people were just flying down … and running away."
Berberian estimated that small vehicles were on site within about 90 seconds and larger fire trucks within two minutes. The airport tweeted that the fire was out and all passengers were off the plane by 4:18 p.m. — just five minutes after the first call came in.
"Three large fire trucks, they were just dousing that side of the aircraft with water to put out the fire," Berberian said "It was very quick."
Hampton said that his own plane, as well as others, "were completely at a standstill" for some time as the situation played out. The incident spurred McCarran to close one of its runways, the airport added.
Aerial video showed the aircraft on the tarmac, with firetrucks nearby and several slides coming out of the plane that passengers used to exit and board buses that took them to the terminal.
Authorities didn't immediately say what caused the 777's left engine to catch fire. Two FAA inspectors were on the scene within about an hour after the incident ended, agency spokesman Ian Gregor said.
As reported by CNN