Compton, California – Raul Montez fondly remembers two polite slender girls holding tennis rackets and their father carrying a bucket of balls past his corner taco stand on Compton Boulevard.
Montez says the young visitors would stop for water and sometimes a treat at his sidewalk grill, an overhand smash away from two unassuming public tennis courts where they practiced.
"They would pass by, one a little taller than the other and they wore skinny jeans not professional tennis clothes," Montez said.
Those two girls were Serena and Venus Williams, the sisters who are tennis sensations.
The Williams sisters have gone from two courts ringed by a cyclone fence and sometimes protective gangbangers to the global cathedrals of tennis, followed by adoring fans.
n his own journey over the years, Montez went from an outdoor charcoal grill to opening his own cozy restaurant on the same spot, called Tacos El Rincon, or "The Corner Tacos" in English.
When it comes to the Williams sisters' rise to tennis greatness, Montez gets teary-eyed and can't form words without a long pause.
"I'm proud, because they came by here almost every day with their dad," he told CNN. "And they worked so hard with their dad. They showed that people from Compton could do it."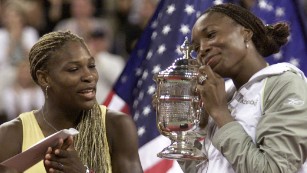 Compton is a blue collar city of almost 100,000 residents getting a lot of publicity from the movie "Straight Outta Compton" about the legendary rap group NWA.
Now the Williams sisters' Tuesday quarterfinal match against each other in the U.S. Open Tennis tournament is refocusing attention on Compton.
Former Compton City Councilwoman Patricia Moore recalls Richard Williams bringing loving, obedient girls into her office, and telling her some day they would win Wimbledon, the U.S. Open, and other major tournaments.
Moore often watched Richard, Venus and Serena practicing at the courts on Compton Boulevard at a time the city was wracked with homelessness, drugs, crime and gangs.
Then Moore used a word you would never think would be associated with a street gang — "wonderful" — because the politician says the gangs watched over the sisters, making sure no one messed with them.
"They would surround the court, they wanted the girls to do well," Moore said.
On those public courts, Moore saw a burning desire to excel in Serena's eyes.
"Serena was sitting on the bench, and her feet didn't even touch the court," Moore began reflecting. "Mr. Williams was teaching Venus how to power serve, rally and volley. Serena would yell out, 'I can do that, dad.' She just had this fiery spirit."
The Compton that the Williams sisters grew up in is changing, from predominantly African-American to 65% Latino, according to a U.S. Census estimate.
Some members of that growing population raise large animals in Richland Farms, a Compton neighborhood zoned for larger properties.
Carlos Carillo trotted down Compton's Oleanader street on his horse and gushed "que bueno," how nice, is the Williams sisters' success.
But there's no building, or court or facility that marks the Williams sisters legacy in Compton.
Enter community activist Sinetta Farley.
She is the president of the East Rancho Domiguez Neighborhood Association, the point on the map where the Williams girls began hitting tennis balls on those courts.
Farley wants the courts rebranded and renamed for the Williams sisters. She also wants a big dedication ceremony with pomp and circumstance.
"I think it would be such an honor, because this is where they started," said Farley. "It gives the young people in our community something to look at that's positive."
Compton community leaders want the residents of their changing neighborhoods and in all 50 states to hear about the rise of the Williams sisters, the little girls who rehydrated at a taco stand and did tennis drills in jeans.
"This is the most amazing story that needs to be told to every child in America, especially those who came out of nowhere," Moore said.
As reported by CNN