President greets delegation from the Israeli Honey Council to enjoy the flavor of the land of milk and honey for Rosh Hashanah.
Beekeepers from across Israel delivered their honey products to Israeli President Reuven Rivlin this week in light of a festive event held at the President's Residence in Jerusalem for the upcoming Jewish New Year.
A delegation of the Israeli Honey Council, which also included a three-generation family of children, parents, and grandparents in the beekeeping business, presented the president with their selection of sweet goods on Sunday, August 30. From zatar honey and carob honey, to the more well-known wildflower honey and citrus flower honey, the Israeli president and his wife got to sample a wide variety of high-quality Israeli honey.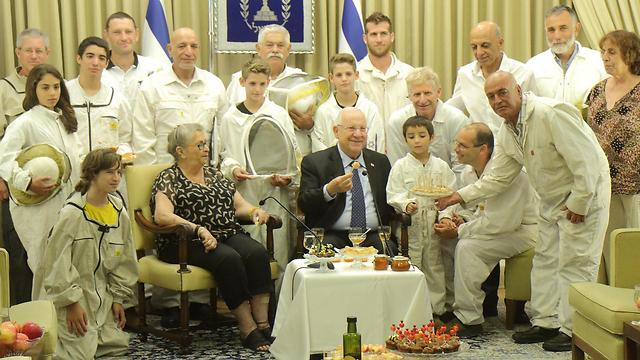 Every Rosh Hashana, Israelis consume around 1,600 tons of honey, symbolic of the Hebrew blessing traditionally recited across Jewish households for a sweet new year.
Israel produces no more than 3,000 tons of honey each year, no easy feat according to Herzl Avidor, the head of the Israel Honey Council. From the north to the south of Israel, there are 500 beekeepers that take care of 100,000 hives, of which 60,000 are placed in agricultural areas to pollinate crops. The demand for honey is greater than what Israel can provide, and so honey is also imported from abroad.
Avidor noted that Israeli beekeepers have been dealing for a number of years with a disappearing bee population, the decline in nectar in Israel, and pesticides – all of which are affecting apiaries around the world. "The honeybee is the primary pollinator in agriculture and is responsible for the pollination of 80% of the world's crops," said Avidor. Pollination is a critical factor for the growth of countless fruits and vegetables.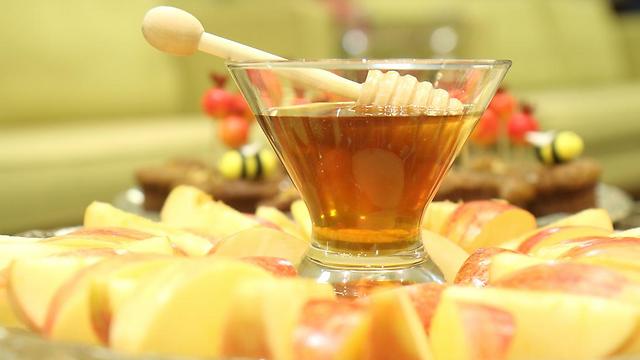 But for Shay Raikin, a beekeeper from Sde Eliezer, an agricultural community in the Hula Valley in northern Israel, honey production is a family affair and one that he is happy to be part of despite the challenges.
Raikin returned with his family from Washington State two years ago, leaving behind a high-tech career in order to return to his family's beekeeping business established by his grandfather.
"My father is a beekeeper and I learned the trade from him, and he learned the trade from his father. We wanted to return and raise our children in Israel," Raikin told Tazpit. "I have no regrets coming back."
Raikin's six-year-old son, Hillel, helps him out with the bees. "He's not afraid of the bees and he's a big help to me," said his proud father. "He never misses an opportunity to work with me and the bees."
Likewise, Shay Kanot, 28, can't remember a day when he hasn't been working with his father on their honey farm in Avigdor, an agricultural community south of Kiryat Malachi in southern Israel.
"I started as a kid," Kanot says. "You deal with the hot weather and countless bee stings. You really have to love this work. But the end results are worth it," he tells Tazpit.