Rules of engagement may change after recent attacks in and around Jerusalem; two border police companies and 400 police officers will be added to protect Route 443 and West Bank.
Prime Minister Benjamin Netanyahu convened a security meeting Wednesday in his office to discuss the security situation in Jerusalem and on Route 443 (part of which goes through the West Bank), where several terrorist attacks have occurred during the last month.
The Prime Minister said that he would not accept a situation in which stones and Molotov cocktails are thrown at a central route to Jerusalem and in the capital itself, and said to participants in the discussion: "The policy is zero tolerance for stone-throwing and zero tolerance for terrorism".
At the meeting, attended by the defense minister, public security minister, intelligence and transportation minister, justice minister, the head of Shin Bet and other officials, Netanyahu ordered the reinforcement of forces on Route 443 and in the West Bank and an increase in the number of observation and intelligence resources.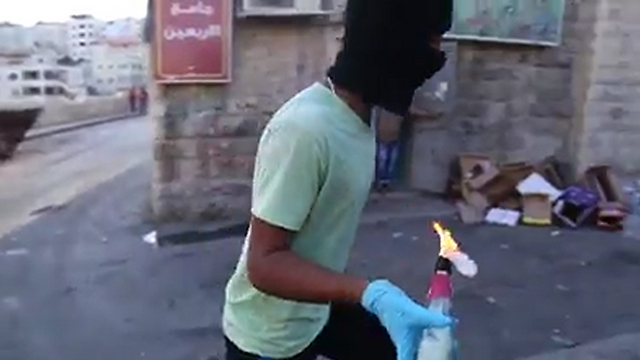 It was also decided to add two border police companies and 400 police officers to the area, and to explore the possibility of placing cameras and lighting along Route 443.
Moreover, it was decided to consider changing the rules of engagement and establishing minimum sentences for throwers of stones and Molotov cocktails.
The Prime Minister said: "Since the legal system is finding it difficult to deal with stone-throwing by minors, changing rules of engagement regarding the throwing of stones and firebombs will be considered, as will be the imposition by law of minimum sentences for those who throw stones and firebombs."
In the past month there have been several attacks on Route 443. Two weeks ago, a Palestinian came to the checkpoint on the road, near Beit Horon, asked a soldier for water and stabbed him with a sharp object. The soldier was lightly wounded, and his fellow soldier shot the terrorist in the shoulder. A few days earlier, a 26-year-old Israeli was stabbed by a Palestinian at a gas station nearby and was moderately injured in the shoulder. IDF forces shot and killed the Palestinian.
Jerusalem has also recently suffered from a succession of terrorist attacks. Last week at the Damascus Gate, a Palestinian resident of Hebron stabbed a Border Guard officer and lightly wounded him. It turned out that the same terrorist murdered Professor Menachem Stern in 1989 but was was released in 2013 as part of an ultimately unsuccessful round of peace talks between Israel and the Palestinian Authority. The same day a Molotov cocktail was thrown at a Border Police vehicle in Al-Tur. The soldiers managed to escape the vehicle and one of them was lightly injured.
As reported by Ynetnews