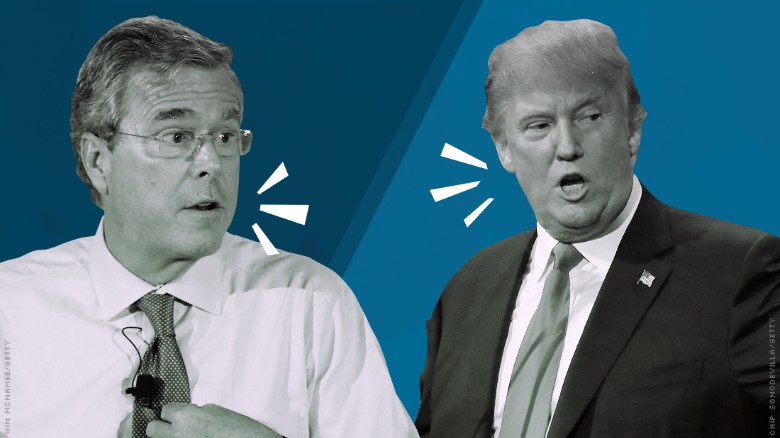 Washington – On Sunday, Republican presidential candidate Jeb Bush once again went after Donald Trump head on, taking aim at the front-runner's policy proposals for dealing with immigration.
"He wants everyone deported, which would tear family lives asunder," Bush told New York radio talk show host John Catsimatidis, later calling Trump's plans "unconstitutional."
"It's not conservative and it's not realistic and it does not embrace American values," Bush added.
Similarly, on Trump's signature idea of building a wall along the U.S.-Mexican border, Bush charged that the proposal is likely impossible.
"What Donald Trump is proposing is a wall that can't be built, and if it was, it would cost hundreds of billions of dollars."
Bush added that "right now the number of Mexicans crossing the border is basically flat," suggesting that Trump misunderstood the immigration issue. Bush charged that "the immigrants that are crossing legally or illegally in both cases are from Central America now."
Last week, Bush went to McAllen, Texas, where he also criticized Trump and his views for dealing with the immigration problem.
Still, Bush lobbed the billionaire who has roundly criticized him since getting in the race some praise.
Acknowledging his appeal and their different style, Bush admitted, "He has captured a sizable amount of support based on connecting with people's anxiety about what the future looks like."
Making sure to finish with a jab, Jeb qualified his compliment, "He is not offering any compelling proposals, though."
As reported by CNN