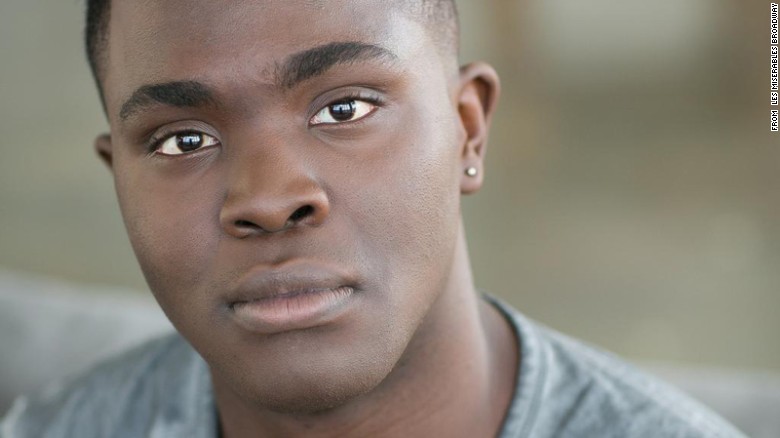 Actor Kyle Jean-Baptiste, who made history as the first African-American to play the lead role in a Broadway production of "Les Miserables," died Friday night in New York.
Marc Thibodeau, a spokesman for the production, said Saturday that Jean-Baptiste fell from a fire escape.
"The entire Les Miserables family is shocked and devastated by the sudden and tragic loss of Kyle, a remarkable young talent and tremendous person who made magic — and history — in his Broadway debut," the production said in a statement. "We send our deepest condolences to his family and ask that you respect their privacy in this unimaginably difficult time."
The critically acclaimed "Les Miserables," now in its second year since returning to Broadway, was Jean-Baptiste's Broadway debut.
The 21-year-old played the roles of the constable and Courfeyrac and was also the understudy for the lead role of Jean Valjean — what he called his "dream role."
He was thrilled to make his debut as what Twitter dubbed #blackValjean on July 23, stepping into the role while leading man Ramin Karimloo was on vacation. In doing so, he also became the youngest actor in a Broadway production of "Les Miserables" to fill the role.
"Thank you for all the love! Last night was one of the best nights of my life," he said the day after his debut.
Join us as we congratulate @BaptisteKyle on his Jean Valjean debut! #LesMizBway http://t.co/0LJ27aiEo0 pic.twitter.com/iDuKyue7Hq

— Les Misérables (@LesMizBway) July 27, 2015
Broadway composer and "Hamilton" star Lin-Manuel Miranda acknowledged the landmark in a tweet parodying 'Les Mis' lyrics.
"RED:THE BLOOD OF ANGRY MEN
BLACK:OUR BWAY JEAN VALJEAN
RED:MAKE HISTORY AGAIN
BLACK:THE BARRICADE LIVES ON
Congrats!"
Miranda was one of many Broadway luminaries to mourn his death, calling it "unimaginable." Earlier this month, the two faced off in song outside the Richard Rodgers Theater for Miranda's musical video series, #Ham4Ham.
Jean-Baptiste was asked to join the Broadway cast in May, one day after graduating with a degree in music theater from Baldwin Wallace University in Ohio, according to Cleveland.com.
His alma mater, Baldwin Wallace University, posted on Facebook that they were "incredibly saddened by the loss" of one of their own.
As reported by CNN