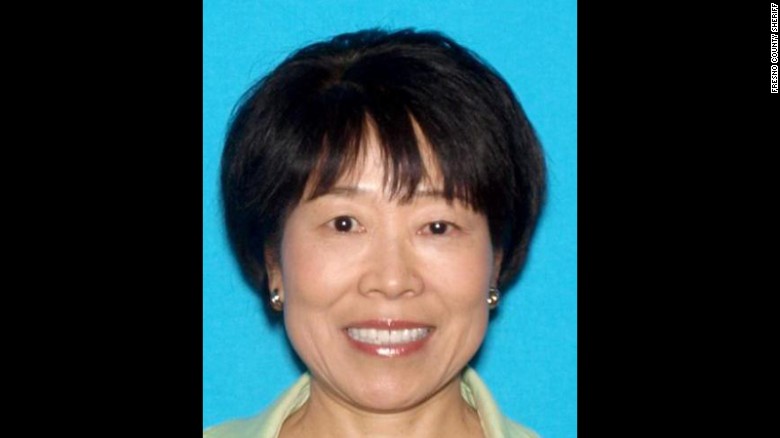 The searchers were getting worried.
Miyuki Harwood, 62, of Orangevale, California, had been missing in the rugged Sierra Nevada Mountains for nine days. Search teams on foot, two helicopters and a drone had come up dry.
"She was really at the end of the time period when we thought she could survive," Rusty Hotchkiss, a California Highway Patrol flight officer, said at a press conference Saturday.
But on Saturday morning, the search ended happily when ground crews located Harwood east of Courtright Reservoir in Fresno County, the Fresno County Sheriff's Office reported.
"She heard them talking, she heard voices and she grabbed a whistle she had with her," Hotchkiss said. "That alerted the rescuers to find her."
Harwood suffered broken bones and had not eaten in nine days, said Fresno County Sheriff Margaret Mims, who talked to Harwood at the hospital.
"She was conscious, talking and very, very grateful she was found," Mims said.
Harwood, a systems analyst at Intel in Folsom, was camping with the Sierra Club near Horsehead Lake, about 100 miles north of Fresno, when she left the base camp the morning of August 21 for a solo day hike, CNN affiliate KCRA reported.
When she didn't return, the other campers reported her missing. Even then, they held out hope, KCRA said.
"She's very resourceful," Debbie Janas told KCRA. "So if anybody has a great shot, it's definitely Miyuki."
Conditions for the search were difficult, Mims said, because the location was so far away and terrain was so rugged.
"It took a day-and-a-half just to get people in there to that location for Ms. Harwood," Mims said.
A Blackhawk helicopter, a Chinook helicopter and even a drone were enlisted for the search, but smoke from a nearby blaze called the Rough Fire hurt visibility.
"We tried to go over the smoke at first but we couldn't see down through it so we had to backtrack," Hotchkiss said. "We had to go down really low and take it slow. We're taking a very slow speed, just making sure we could see just what was in front of us."
Harwood was in good physical condition and an experienced hiker, but she only took enough supplies and clothing for a day hike, not an overnight stay, Mims said. Luckily she carried a water filter.
At some point Harwood was injured and broke some bones, though the full extent of her condition is not known.
"She basically crawled from where she was injured down to a creek," Hotchkiss said. "It took her about two days to do that. And then she was able to drink from the creek with the water filter to stay alive."
Harwood was airlifted to a nearby hospital. Details on her condition were not immediately available.
Mims said mutual aid from other law enforcement agencies made the search successful. The location was so remote that about 50 searchers could not be brought home Saturday.
"They're going to spend another night in the wilderness," she said.
Officials were jubilant at the happy ending.
Said Jim Abrames, chief of the central division of the California Highway Patrol: "It tickles us all to death that we have good news at the end of nine days."
As reported by CNN