Palestine National Council is set to meet in Ramallah following recent power shifts within the Palestinian political system.
Palestinian leaders have set September 15-16 as the dates for their first congress in nearly 20 years after President Mahmoud Abbas announced his resignation as head of a top executive body.
The meeting of the Palestine National Council (PNC), a congress representing those in the Palestinian territories and the diaspora, is to be held in Ramallah in the West Bank.
"It has been decided to ask the Palestine National Council to convene for a session on the upcoming 15th and 16th of September in Ramallah,"senior Palestinian official Azzam al-Ahmad told AFP.
"The council's agenda includes electing a new executive committee for the (Palestine Liberation Organisation)."
Ahmad said the congress would also discuss the stalemate in peace talks with Israel, among other issues.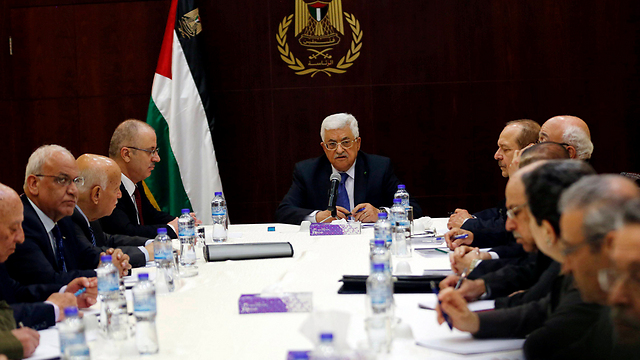 Abbas's allies say his recent moves are part of efforts to inject new blood in the Palestinian leadership.
Critics, however, argue that Abbas is maneuvring to empower his allies and marginalize opponents ahead of the 80-year-old's eventual retirement.
Abbas's Fatah party and Hamas, the Islamist movement that runs the Gaza Strip, remain deeply divided.
Separate, indirect contacts are said to have occurred recently between Israel and Hamas on a long-term truce.
Abbas resigned last week as head of the Palestine Liberation Organisation's Executive Committee in a bid to force new elections for the top body.
His resignation along with a number of others from the 18-member committee will only take effect with a meeting of the PNC.
Hamas belongs to neither the PLO nor the 740-member PNC, the top legislative body of the Palestinians and which has not met since 1996.
Some observers see chief Palestinian negotiator and Abbas ally Saeb Erekat as a potential successor to the veteran leader.
Before the resignations were announced last week, the executive committee elected Erekat as its secretary general.
As reported by Ynetnews