Pensacola, Florida – Jeb Bush, continuing to hit back against Donald Trump, took some not-so-subtle digs Wednesday at the GOP front-runner's spat with a Univision anchor.
The former Florida governor, holding a town hall in Pensacola, Florida, argued that Trump "should be held to account" on his immigration proposals to build a wall on the U.S.-Mexico border and deport millions of undocumented immigrants.
"He should be asked, as he was yesterday, how are you going to pay for it? Why don't you — prove to me it's not practical?" Bush said during his town hall, blasting Trump for "appealing to people's angst and their anger" without offering "conservative" solutions.
In Iowa on Tuesday, Univision anchor Jorge Ramos was escorted out of a Trump press conference when he tried to grill Trump on specific questions about his immigration plan. Ramos was later allowed back into the event and the two had a testy exchange.
Bush, who takes questions from reporters on a near daily basis, was asked by journalists after his town hall to more specifically address Trump's encounter with Ramos.
"I think people in the press ought to be treated with a little more respect and dignity," Bush said. "How about that?"
He added that he was surprised that he didn't see many reporters pushing back against Trump at the time of the battle between the real estate titan and Ramos.
"I didn't see a whole lot of like people in the press saying, 'Woah, woah time out, wait a second,'" he continued. "I thought you guys would, you know, unite."
Bush held the town hall in Pensacola to commemorate the anniversary of the deadly back-to-back hurricane seasons that wrecked havoc in Florida in 2004 and 2005, when Bush was governor. It was another example of Bush drawing a contrast with his rivals on his executive experience as a two-term governor of a large state.
"Look, there's some people running that are really talented about filling the space, about saying big things. They think that volume in their language is a kind of a version of leadership," he said in the town hall, drawing some laughs from the audience. "Talking is not leadership. Doing is leadership. And that's what we need."
Bush has stepped up his attacks on Trump in the past week as the front-runner has continued to zero in on the former governor, taking aim especially at Bush's demeanor and calling him "low-energy," a favorite attack line of Trump's.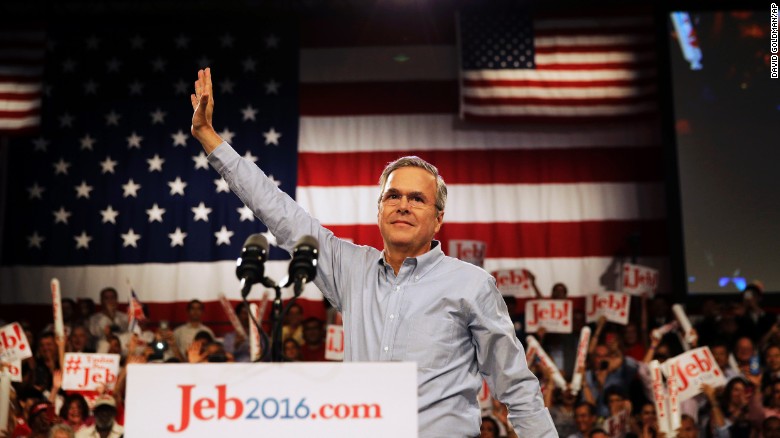 But Bush on Wednesday argued that he's "got tire marks" on his forehead from the leadership he learned "through trial and error."
"You don't talk about things on the sidelines. We need leadership in Washington, D.C.," he said, before adding: "high-energy leadership."
While he may not like talking about Trump, he hinted in one of his answers that he's following his rival closely. At one point, a man in the audience made a reference to a tweet that Trump re-tweeted Monday night, in which someone on Twitter wrote: "Jeb Bush is crazy, who cares that he speaks Mexican, this is America, English!!"
At the town hall, the man joked to Bush that he was "going to talk to you in the Mexican language but …"
Not missing a beat, Bush quickly caught onto the reference.
"Mexican? I don't even know what language that is," he said to laughs. "I heard that someone brought it up. What's up with this? I mean, Mexican?"
The man continued to ask his question, referencing Trump's visit to the border last month.
"Do we have to talk about that guy?" Bush interjected playfully.
The voter argued that he doesn't think crime from immigrants is as bad as Trump makes it sound.
Bush, who visited the border himself this week, started ripping into Trump's proposal to build a wall when an audience member shouted out that China built a giant wall.
"Oh yeah. 600 years ago," Bush said. "I'm telling you what they say on the border. Not in Pensacola, because we don't have a border problem here. I'm talking about the people that are on the ground, what they say. It's not feasible and it would tear apart their community, would hurt their economic activity, and it's not needed because there are better ways to deal with this."
As reported by CNN