Committee of Arab mayors decides not to open schools for two days in protest of government's failure to respond to request for NIS 6.4 billion per year infrastructure budget.
The National Committee of the heads of Arab localities (NCALC) declared Wednesday that it would not begin the new school year next week in protest of the government's failure to respond to the request for budget allocations for Arab-Israeli towns.
The committee demanded NIS 6.4 billion per year for the next five years to invest not only in the education system, but also in overall infrastructure.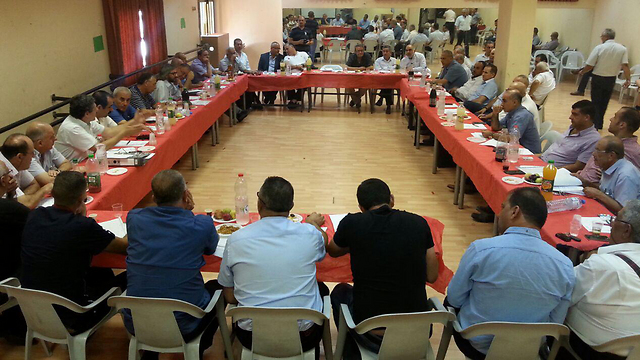 In a convention in Sakhnin, the committee's members declared that schools would be on strike for the first two days of the school year. Next Wednesday, which is the third day of school, a protest will be held in front of the Knesset and protest tents will be placed in front of government ministries.
"This is a correct and justified decision because we are demanding our rights," Tira Mayor Mamoun Abd Al-Hay told Ynet. "I'll take this opportunity to call on the Jewish community to be in solidarity with our position."
Jafar Farah, director of the Mossawa Center, which advocates for Arab citizens' rights in Israel, said: "There are schools without electricity where they learn in trailers, but we are also talking about thousands of homes without being connected to electricity and without other things, and there are no plans for construction or industrial areas. We cannot continue this situation of years-long discrimination.
"It's time for the government to make a decision and start to take care of schools, sanitation, industrial areas, and roads," continued Farah. "These are the local authorities' needs. This is NIS 6.4 billion a year out of a state budget of NIS 380 billion. That's all the Arab population I asking for."
Sakhnin Mayor Mazen Ganaim added: "Unfortunately, all the meetings we have had, whether in the Prime Minister's Office or with the finance minister or MK Gila Gamliel, ended without results. There was no alternative but to convene the 65 mayors and make a decision that on September 1, schools will not be opened. The strike will continue until further notice.
"Everyone is aware of the neglect Arab society suffers in Israel," added Ganaim. "They say 50 percent of Arab society is poor, they speak of unemployment and arms trafficking, of violence and the need for planning. Mayors take care of all these things. The Israeli government has unfortunately done nothing until now for Arab society and has left us no choice but to make this decision."
As reported by Ynetnews