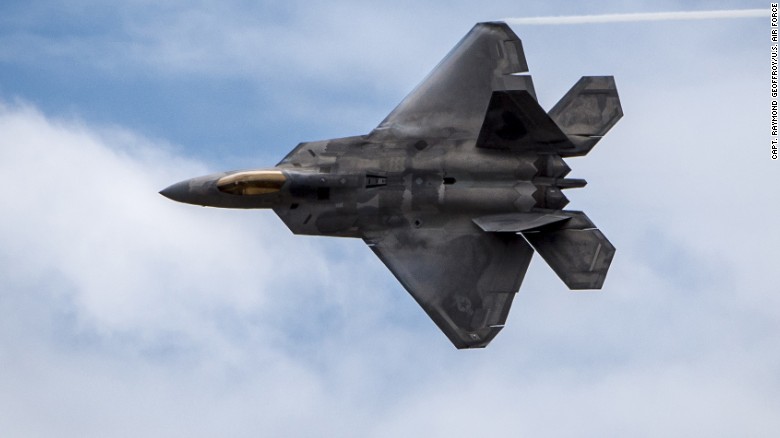 The U.S. Air Force will soon dispatch its most advanced fighter jet, the F-22 Raptor, to Europe in a show of solidarity with allies that have concerns about Russian actions in Ukraine, Air Force leaders said Monday.
"Russia's military activity in the Ukraine continues to be of great concern to us and to our European allies," Air Force Secretary Deborah James, the service's top civilian, said at a briefing. "This inaugural F-22 training deployment will train with our joint partners and our NATO allies across Europe as part of our continued effort to assure our allies and demonstrate our commitments to security and stability of Europe."
James said security concerns prevented her from disclosing exactly when and where the aircraft would deploy, but Gen. Mark Welsh III, the Air Force chief of staff, gave some clues.
"We'll get the F-22 into facilities that we would potentially use in a conflict in Europe, things like the bases where we do aviation attachments, to places where we do air-policing missions," Welsh said.
The stealthy F-22s, which Welch called the service's "best air-to-air capability," became operational in 2005 but only saw their first combat in attacks on ISIS positions in Syria late last year. Besides attacking other aircraft, they can be configured to bomb ground targets.
"The F-22 cannot be matched by any known or projected fighter aircraft," says the Air Force's fact sheet for the Raptor, each of which costs about $143 million. That would include what Russia currently puts in the air.
James said sending the F-22s to Europe is only part of what the Pentagon is doing to reassure allies.
"I think Secretary of Defense Carter put it quite well last week when he said that our approach to Russia needs to be strong and it needs to be balanced," James said.
The U.S. military has been rotating various units through Europe for training and exercises this year. Air Force F-15s, F-16s and A-10s have been part of those rotations.
Meanwhile, the Army and Marines have sent tanks and armor to the continent. And on Monday, 400 U.S. and allied paratroopers staged parachute assaults on two airfields in Bulgaria as part of Exercise Swift Response 15, which the Army calls "the largest U.S.-led airborne exercise in Europe since the end of the Cold War." The total exercise involves 4,500 airborne troops from 11 NATO nations.
As reported by CNN