He was armed for a massacre.
Ayoub El Khazzani, the suspected gunman who was overtaken by passengers on a Thalys train in France last week, carried with him an AKM assault rifle with 270 rounds of ammunition, a Luger M80 automatic pistol with a full cartridge, a box-cutter and a water-bottle-sized container full of gasoline, according to French Prosecutor Francois Molins.
"According to all of the witness accounts we've gathered … (El Khazzani) wouldn't have hesitated to use all the arms in his possession — assault rifle, pistol and box-cutter — if it wasn't for the remarkable intervention of the passengers," Molins told reporters at a news conference Tuesday.
The 25-year-old Moroccan has been charged with attempted murder, attempted mass murder and membership in a terrorist organization, the prosecutor said — because the gunman allegedly wanted to kill all the passengers on the train.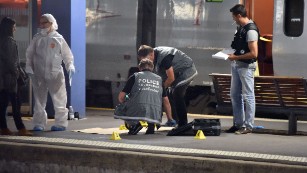 Molins said El Khazzani has invoked his right to remain silent after days of "evasive answers."
Before he assembled his weapon in the toilet compartment between two train cars on Friday, El Khazzani sat on the train — bound for Paris from Amsterdam — listening on his phone to a YouTube file of "an individual calling his followers to combat and urging them to take up arms in the name of the Prophet," Molins said, saying this was indication of his terrorist intent.
After bursting out of the bathroom with his assault rifle, El Khazzani was met by a French man who was waiting there and who tried to stop him. El Khazzani fired off several rounds, and the man escaped through the doors into the next car, the prosecutor said.