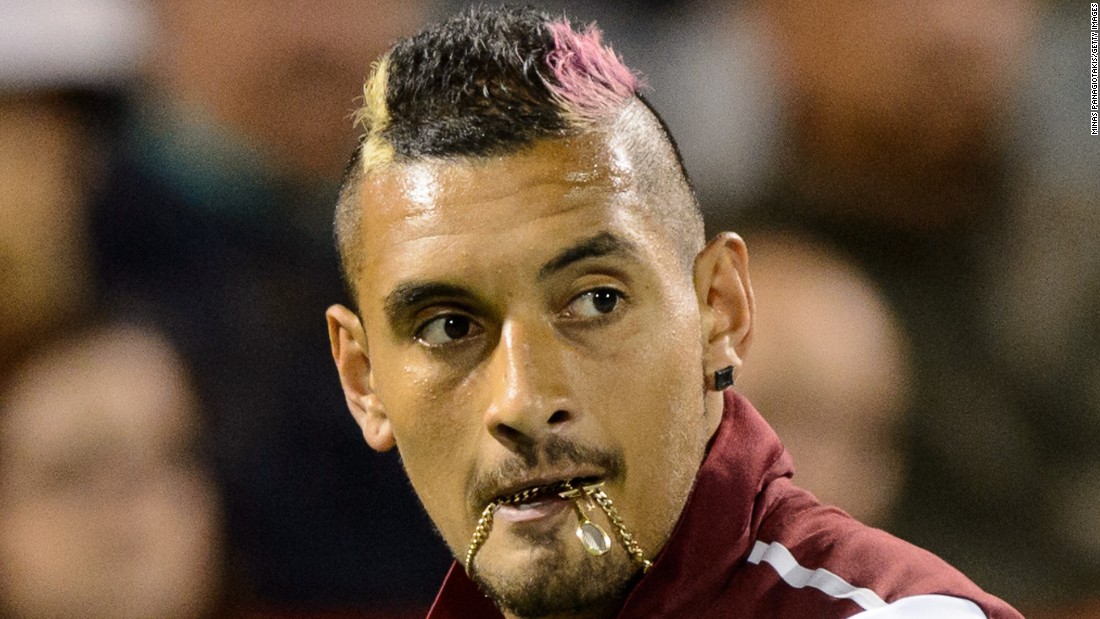 Controversial tennis star Nick Kyrgios has avoided immediate further punishment for his lewd sledge aimed at Stan Wawrinka on court in Montreal — but he will have to be on his best behavior.
Men's governing body the ATP followed up its initial $10,000 fine with the threat of another $25,000 payment plus a 28-day ban if the Australian offends again in the next six months.
The sanctions will be imposed if he is fined for verbal or physical abuse, or if he incurs more than $5,000 in fines for any other reason, the ATP said in a statement on Monday.
"Nick has expressed regret, and the best result would be that he learns a lesson from this incident and that he understands he is responsible to the Tour and to fellow players for both his actions and his words.
"It is with these factors in mind I feel he should have the opportunity to 'earn' his way out of additional sanctions."
Microphones courtside picked up the 20-year-old linking fellow Australian pro Thanasi Kokkinakis to Wawrinka's girlfriend — who is reported to be women's player Donna Vekic — at the Rogers Cup tournament on August 12.
A furious Wawrinka confronted Kyrgios in the locker room after the match and called on the ATP to take action.
A day later the ruling body hit Kyrgios with the maximum on-site fine and said it would further investigate the matter.
Wawrinka's camp had no comment on Monday's development when contacted by CNN, but at last week's Cincinnati Masters the two-time grand slam winner reiterated his request for the ATP to come down hard on Kyrgios.
"There was a lot of anger in the locker room about what he did," Wawrinka told reporters. "As a player, you realize more what he did and what is the consequence for the private lives of people involved. They were not just a few words.
"With one sentence, he can touch and hurt a lot of people. I had a lot of support in the locker room, that's for sure."
Indeed, the three biggest names on the men's tour — Roger Federer, Rafael Nadal and Novak Djokovic — all condemned Kyrgios, who was accused of "tanking" during a match at Wimbledon in July and separately docked $9,500 for unsportsmanlike conduct and uttering an audible obscenity at the All England Club. He denied not trying during that fourth-round defeat by Richard Gasquet.
Kokkinakis, his 19-year-old friend, criticized Kyrgios in Cincinnati, saying the Australian Open quarterfinalist "can't be doing that."
Vekic broke her silence at a tournament in Canada last week.
"I haven't spoken to Kyrgios," the 19-year-old told the Vancouver Province. "But it's a very disappointing thing to be happening in our sport and I hope it won't happen again because it's not a very good image for our sport."
Kyrgios received boos in the next match he played against John Isner and could be in for a rough reception at the U.S. Open, which starts next Monday.
Wawrinka, visibly drained in the aftermath of the incident, said he would be ready for the season's final major.
"I know myself," he said. "I know how to get ready for a grand slam. I know how I deal with everything."
As reported by CNN