40 portable digester generators designed by HomeBioGas start-up are in use in pilot project at Palestinian village of al-Awja in West Bank; start-up's CEO says digesters could save many lives in rural areas across the world where smoke from cooking on an open fire causes severe respiratory illness and death.
Palestinian villagers living in desolate, off-grid areas in the West Bank have begun using Israeli-made bio-gas generators that supply free, clean energy by gobbling up organic waste.
The portable, household "anaerobic digesters" made by Israeli start-up company HomeBioGas turn food leftovers and manure into methane for cooking and lighting.
They can be taken along if people living in ramshackle huts or tent dwellers, such as local Bedouin, decide to relocate or move homes.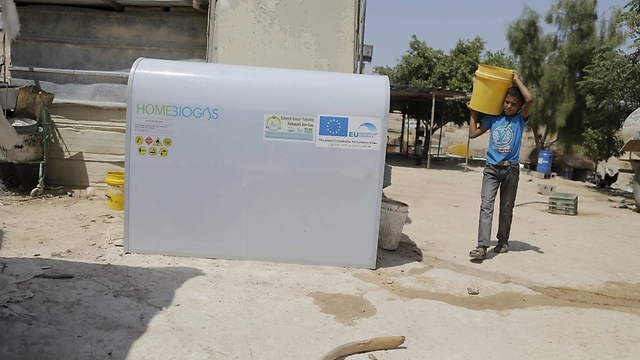 "HomeBioGas has invented this simple digester that can easily be assembled and transported," said Palestinian engineer Amer Rabayah, who coordinates installation of the devices.
Rural West Bank areas that Palestinians want as part of a future state with the Gaza Strip and East Jerusalem have been left under-developed, while Israel has invested in adjacent settlements.
Palestinians, largely left to fend for themselves, have relied on donations from foreign states and international aid agencies.
"(In) this area … there is no water or electricity. We have no services," said local resident and digester owner Nayef Zayid.
Around 40 digesters have been set up in a pilot project at the Palestinian village of al-Awja in the central West Bank's Jordan Valley.
The European Union has funded the project to the tune of some 500,000 euros, and the Peres Center for Peace, set up by former Israeli president Shimon Peres, facilitated Israeli-Palestinian cooperation.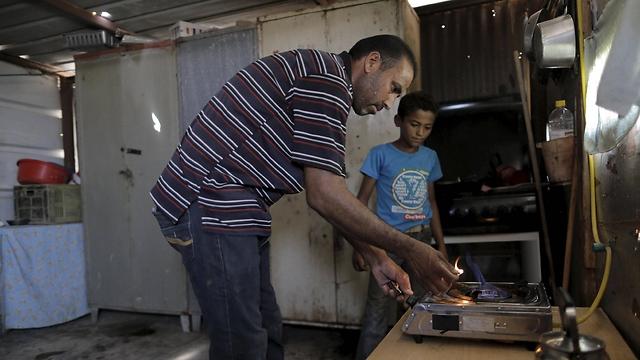 A group of Israeli and Palestinian volunteers helped assemble the digesters, which take about three hours to install.
Some digesters have also been provided to Bedouin in Israel in partnership with the Arava Institute for Environmental Studies, based in the arid Negev desert.
HEALTHY OPTION
Oshik Efrati, chief executive officer of HomeBioGas, said he hoped the product would save many lives in rural areas across the world where smoke from cooking on an open fire causes severe respiratory illness and death.
Up to 2.7 billion people live in under-served communities with no access to clean energy and waste disposal services, HomeBioGas says, while 4.3 million women and children die each year due to inhaling smoke from indoor open fires.
The company aims to expand its production capacity and enlist governments and aid agencies to buy digesters for impoverished communities, but plans are still in their infancy, Efrati said.
"This system will be available to everyone that needs it in the developing world. It will eliminate waste, it makes clean gas, and there is no need to breathe in any smoke," he said.
A fermentation process to produce the gas is precipitated when bacteria is added in powder or liquid form to a mix of water and waste. The bacteria then multiply to create a self-perpetuating process.
Rich liquid fertilizer, a byproduct of the process, can also be used to boost crop growth for a population that largely relies on agriculture for income, Efrati explained.
HomeBioGas declined to discuss a retail price for the digester, whose materials and construction costs amount to a few hundred dollars. It is best suited for use in warm climates.
The company also sees affluent, environmentally aware Western consumers as future clients for its product, which will be sold to them for profit, marketing director Ami Amir said.
As reported by Ynetnews