The successful musical, based on Abba's greatest hits, brings its fantastic London cast to Tel Aviv for a limited run.
In one of the high points of Mamma Mia!, the bride's mother looks at one of her ex-husbands and says "I don't wanna talk" dramatically. Then she goes on, "About things we've gone through," and turns the little speech into the opening of The Winner Takes it All, by ABBA of course.
Those who see this forced and overly-dramatic combination as ridiculous, or who don't understand how a musical's plot can turn so quickly into a string of nearly context-free pop songs, probably don't have much to look for in Mamma Mia!.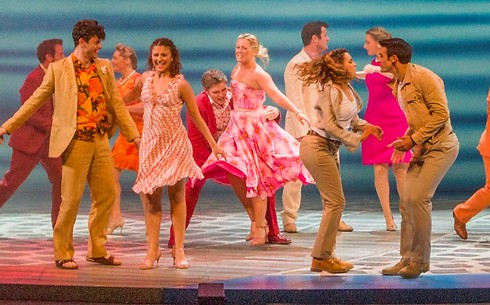 The hit musical, based on ABBA's greatest hits, has been running on stage for over 15 years, was adapted into a feature film, and on Thursday it arrived in Israel for a limited run at the Tel Aviv Performing Arts Center.
Those who aren't looking for too much depth, but mostly want some quick fun and a lot of good, light music at the end of the steaming summer will find just that in this musical, arriving in Israel with its London cast, eight years after their last visit.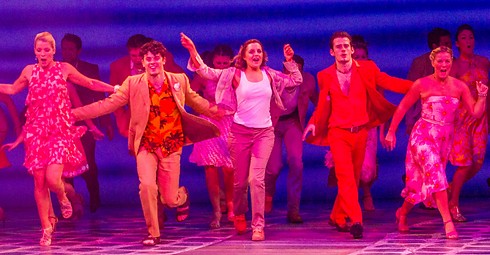 A short plot synopsis for anyone who still needs a this glitterfest to have a unifying theme (we'll make it short, I promise): Donna has lived on a picturesque Greek island for over 20 years. Shortly before that period started, she fooled around with a small number of men (three, to be exact), one of whom had a part in bringing her daughter, Sophie, into the world. The problem is that neither Donna nor Sophie know who the real father is.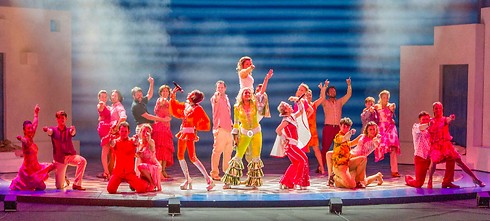 Before she marries her beloved, Sophie decides to look through her mother's secret diary, where she finds the names of the three possible candidates who might have had a hand in creating her. Without consulting her mother or her fiancé, she invites all three to the wedding. And guess what? All three arrive. From here, the plot thickens, old relationships come back to life, and new ones are born.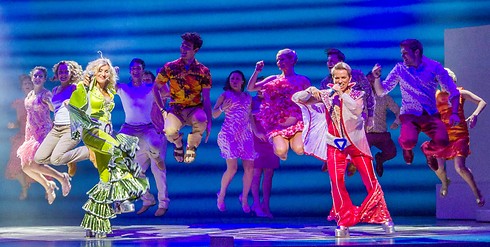 The story, as you probably deduced, is accompanied throughout by over 20 of the greatest pop hits by ABBA, one of the genre's most important bands (if not the most important of all). In addition to fitting the plot, the performances in the latest version of Mamma Mia! are well adapted to the performers, and they sound sharp and well executed.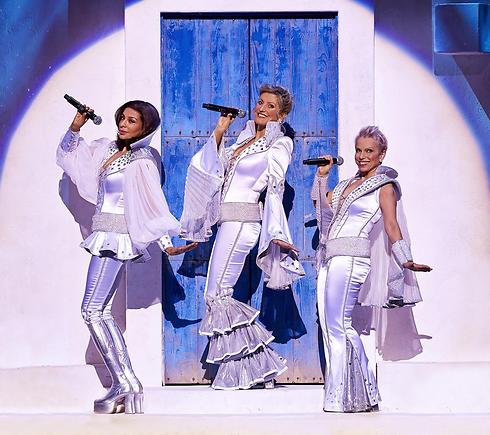 However, even among these you could find some songs that thrill audiences more than others, such as Chiquitita (performed by Donna, with her two friends Tanya and Rosie), Lay All Your Love on Me (performed in two parts, taking audiences into the pure waters of the Greek Islands), Under Attack (A solo performance by Sophie), and the fabulous Our Last Summer (Donna and Harry).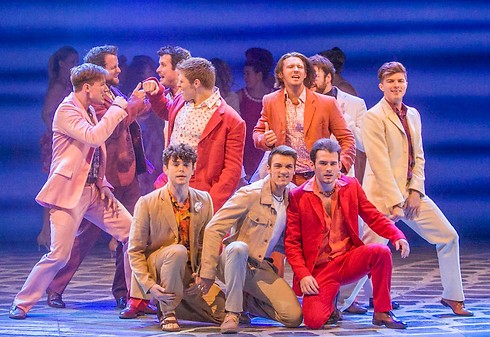 It might sound strange, but only after exiting the Performing Arts Center into a hot and humid night do you understand that although it's songs are 40 years old, Mamma Mia! is one of the most refreshing parts of the 2015 summer season. The production should be commended for giving a new, young feel to these classics with a dynamic, excellent cast that can act and sing fantastically, plenty of good humor, and a willingness to amuse audiences.
But that's not all (caution: Spoilers!). Those who already saw previous versions of Mamma Mia! know that the musical doesn't end when it ends, but that a 15-minute mini-show starts directly after the last scene. Here, the cast dons ABBA costumes, lights up the disco ball, and sings hits such as Waterloo, Dancing Queen, and of course the musical's titular hit, Mamma Mia. After this finish, audience members leave tapping their feet to the disco beat, with huge, involuntary smiles on their faces.
As reported by Ynetnews